Multiply Your Sales Power
Turn Frontline Employees Into Sales Reps
If you could only clone yourself, imagine what it would do to your sales velocity. Wonder no more with SparkPlug creating the same effect of adding sales reps, at a fraction of the cost. Multiply your sales reach and sell more products at all your target accounts with the power of frontline employee incentive contests. Earn high fives every time you visit (or run everything from the comfort of Zoom, we won't judge).
Launch Automated Sales Incentives
SparkPlug allows you to quickly launch incentive contests for frontline teams. Customize based on sales goals and sit back while every aspect runs on autopilot.
Sales Analytics & ROI Reports
Showcase ROI and sales lift to your internal stakeholders. Prove how successful incentives have been to brand results, often exceeding other sales efforts.
Win Over Frontline Teams at Scale
Motivate frontline teams to sell more of your products. Multiply your sales power with every location activated and rewarded for their brand sales efforts.
Create Brand Advocates at Every Location
SparkPlug is the easiest way for you to get frontline teams talking about your brand. With incentives across multiple retailers and locations, you can gain the power of hundreds of brand advocates directly at the point of purchase.
Increase Sell-Through
The best way to maintain profit is to boost sales without having to discount. With SparkPlug, the impact of frontline teams sharing your product with customers has a direct lift on your sales volume and keeps more of your bottom line. This goes beyond the initial purchase, making new customers for life.
Measure ROI by Retail Location
See brand analytics filtered by retail location, date, and product. Showcase incentive ROI to key internal stakeholders.

View which salespeople are performing best for your brand incentives and give them a high-five next time you visit the store. Brand ambassadors activated.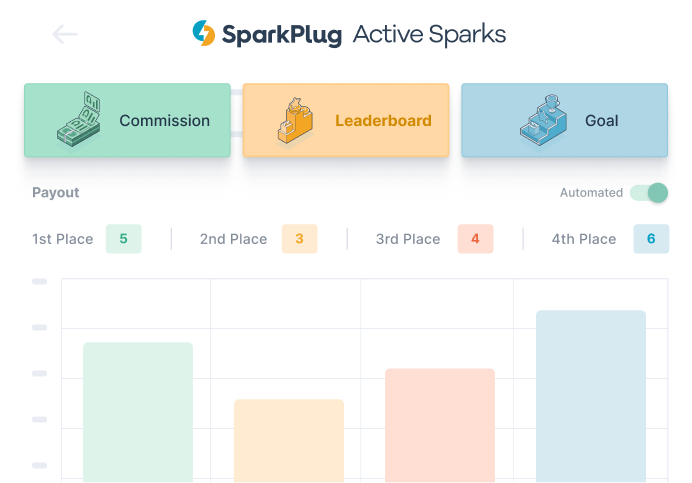 Launch Automated Custom Brand Contests
Tailor incentive contests to your brand goals. Choose from commission, leaderboard, or goal. Set a motivating reward and submit the incentive campaign to partnered retailers. Then sit back and watch as SparkPlug automates every step of the contest, from product sales tracking per employee to automatic reward payouts via text message.
Sales Leaders
Love SparkPlug
Sales leaders and their teams are amazed by how seamless and effective it is to run incentive programs on SparkPlug. The results speak for themselves:
"We have thoroughly enjoyed using SparkPlug! I enjoy that the employees are easily able to check where they're at in the standings. It is also a good way to increase upselling in a natural way."
— AJ Hunt
Area Director, The Peak
"I really like how I can track my progress during the incentive period. As I become closer to a milestone I think more about the benefits of the product and how it might appeal to my customers!"
"SparkPlug has proven to be an effective tool in managing incentives. Our employees love the tracking and who doesn't love being rewarded! Incentives are a great way to grow the business and SparkPlug makes it easy."
— Denise De Nardi
Chief Sales Officer, Native Roots
"SparkPlug has been an extremely motivating platform for me as a salesman! it has helped me afford gifts for Christmas with the extra rewards and makes work a bit more fun!"
Frequently Asked Questions
Does SparkPlug have tools for any type of business?
Yes, SparkPlug can work across any type of retailer or restaurant. Simply connect to your point of sale and you can automate incentive campaigns with the SparkPlug platform.
Sparks are the term for incentive campaigns running on SparkPlug. Any brand, manager, or operator can create a Spark and approve pending Sparks.
How do businesses work with vendors for incentives?
Vendors and brands can easily submit draft incentives to partnered retailers and businesses. Once the manager or admin at the location approves the campaign, it can start running immediately. Employees at the location can participate in any available incentives.
Incentives are easy to manage from a centralized dashboard on SparkPlug. Employee performance in active incentives are automatically tracked in real-time. Available contests and reward payouts are sent on autopilot to employees via text messages.
How does SparkPlug compare to other incentive software providers?
SparkPlug is unique in 3 ways:

1. Everything is automated vs the manual method of other platforms.

2. Employees constantly mention how seamless it is for them to participate in incentives and claim their rewards.

3. Our customer support is unmatched. Everyone from employees to operators are answered quickly and rave about our customer support team.
What kind of resources does SparkPlug provide businesses?
SparkPlug works closely with each business to onboard, launch campaigns, and report on ROI. Our customer support team is actively involved in making sure every customer has success with the SparkPlug platform.