Trends in brand marketing and sales channels are happening at an accelerated rate due to evolving shopper behavior.
Consumer brands can benefit by getting ahead of the trends that will shape this year.
We asked industry experts what their predictions are for brands in 2023.

SparkPlug's CEO and Co-Founder, Andrew Duffy, sees a shift in the way brands will need to compete for consumer spend. In this video, he shares his predictions for 2023:
The DTC-only brand era is over
As for brands, I think that on the flip side of that, the era of the DTC-only brand is completely dead.
If you are a brand that exists exclusively online, you are going to be competing directly for customers with the biggest dollar brands on the block that are all VC funded, although decreasingly so, and are ultimately going to find themselves in a race to the bottom, or a race to the top as it were, on cost of customer acquisition.
All these brands are going to start to diversify and get into physical retail spaces, and they're going to do so at a rate that is unprecedented for the DTC world. This is going to be probably the biggest year in the past decade for DTC brands transitioning into physical retail spaces as a huge channel for them to acquire customers and then create relationships with them online to take advantage of their existing structures.

Alessandro Bogliari of Influencer Marketing Factory predicts that brands will need to become content driven to compete:
Brands will become media companies
When a brand creates its own content, it can enormously impact a wider audience and how they think about the brand.
Red Bull is an example of how successful this tactic can be. The partnerships they have formed with sports influencers and athletes for events has ballooned into a content creation machine that goes beyond what the brand produces directly.
In 2023, we will see more brands becoming media companies by producing content in multiple formats such as subscriptions, how-to videos, and online publications.

Shoppable videos will boom
Social platforms like YouTube and Instagram are leaning into shoppable videos. On Instagram, as reels gain popularity, more users are getting familiar with shoppable product videos where users can see tags in a video and go directly to checkout.
YouTube has shown a commitment to commerce by making the 2nd annual Beauty Festival a shoppable experience. This activation included a partnership with Glossier that encouraged audience participation and content creation. Every Short created with the branded hashtag was shoppable using the link directly on the video.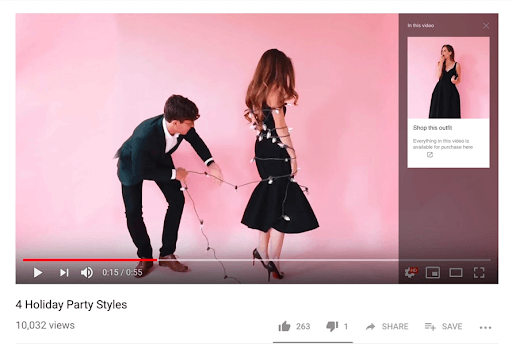 In the example above, the video has shoppable outfits in an interactive panel.
Consumers will want proof of sustainability claims
Jessica Rubino and Adrienne Smith from New Hope Network predict that consumers will want brands to prove their commitment to wellness and sustainability. This might be in the form of backing up their claims, more detailed supply chain insight, brand stories, or ingredient education.
Listen to their podcast episode for examples of ways brands can share transparency and proof points.
---
Use these predictions to get ahead of the game. All of us here at SparkPlug wish you a prosperous 2023!
PS: Looking for a cost-effective way to increase your sales velocity? Take a look at SparkPlug to seamlessly offer incentives to retailers that carry your brand.