Between state and legal regulatory requirements, inventory management, completing sales transactions, and handling payments, keeping a cannabis dispensary running smoothly can be a tricky task. This is especially true considering that state and federal agencies keep close tabs on everything you do in your store.
Luckily, there's technology out there that is the answer to your woes: Point of sale terminals. By implementing a POS system at your dispensary, you can easily monitor inventory, keep track of sales records, and more. Considering that compliance is a top priority for cannabis dispensary retailers, there's no doubt that taking advantage of POS systems that do the heavy lifting for you is the best choice.
Choosing the Right Dispensary POS System for Your Business
One of the biggest threats against cannabis dispensary operations is human error. One seemingly small mistake on sales reporting can result in hefty fines, loss of your license, or even jail time. That's why it's vital to invest in reporting software that eliminates errors and ultimately keeps your business safe from negative repercussions.
Quality dispensary POS systems are also a great tool you can use to minimize client wait times and make sure employees have the tools they need to succeed at their jobs.
Choosing the right dispensary POS system for your business doesn't have to be a difficult task. Let's compare a few of the top options and how you can benefit from them.
Biotrack
Website: https://biotrack.com
Price: Request a quote
Free Option: None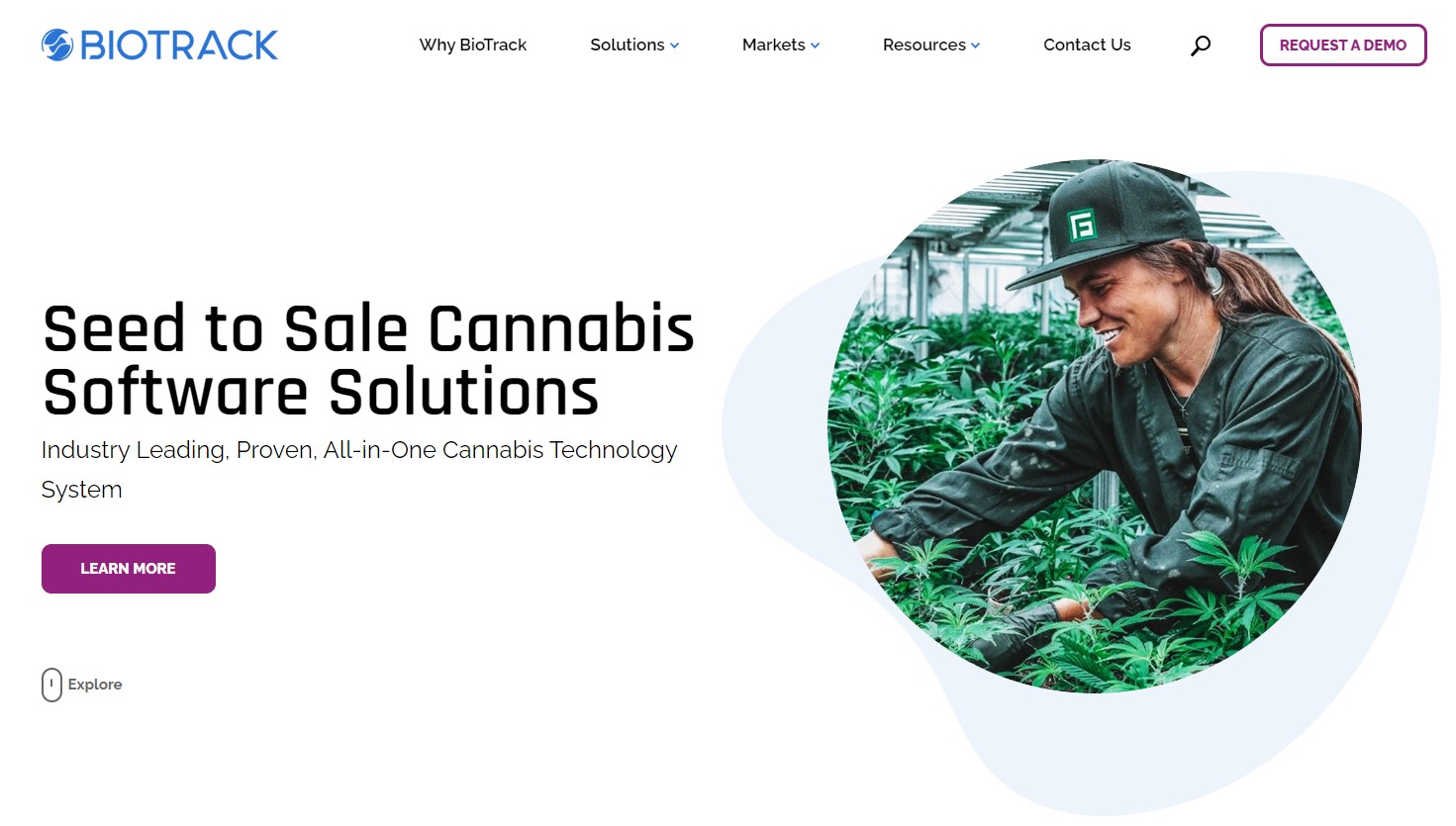 Biotrack is a premium cannabis dispensary POS system that features seamless integration with every state system and license type. As the first true seed-to-sale cannabis POS platform ever made, you can count on Biotrack's team of experts to help you every step of the way. A few of the most important goals of the software include compliance, tracking, and reporting.
No matter which type of license you hold for your business, Biotrack is integrated with all state METRC tracking systems to automatically report all of your compliance data on your behalf. That means you can spend less time stressing over tedious reporting requirements and more time developing and scaling your cannabis business.
Blaze
Website: https://www.blaze.me
Price: Request a quote
Free Option: None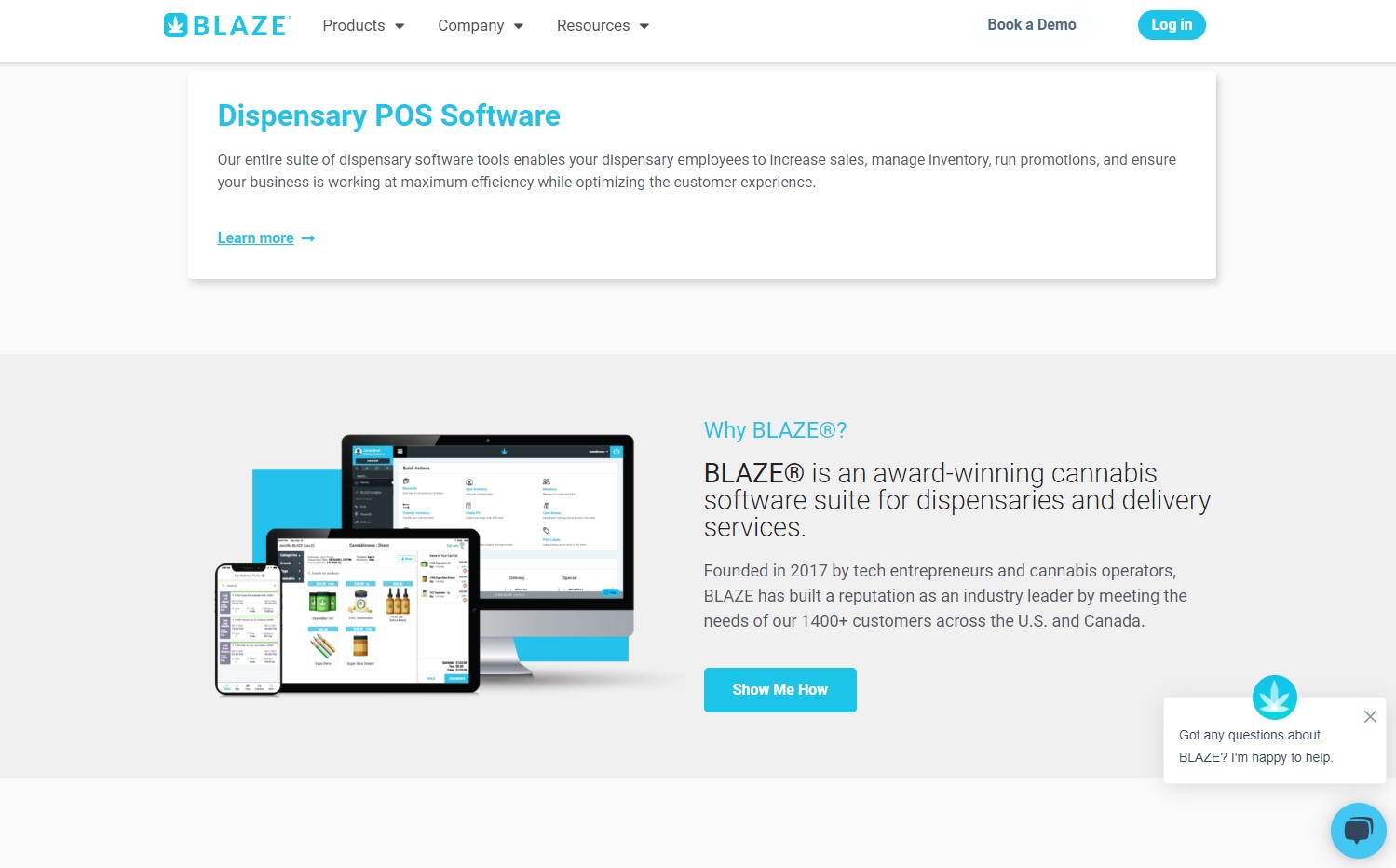 Whether you need support for budtenders, delivery drivers, or other dispensary personnel, Blaze POS has you covered. Designed with these people in mind, this cannabis dispensary POS software focuses on making customer interactions fast, friendly, and convenient. The platform also boasts the fastest, most intuitive in-app experience on the market today.
Want to sell from anywhere? Blaze POS has the technology and integrations you need to make that dream a reality. With their platform, you can convert your existing website into a mobile storefront in a matter of minutes. From there, customers can place orders online in a snap and you can set up text and mobile notifications where orders can be tracked with ease. This feature is compatible with Wordpress, HTML5, Squarespace, and more.
Flowhub
Website: https://flowhub.com
Price: Request a quote
Free Option: None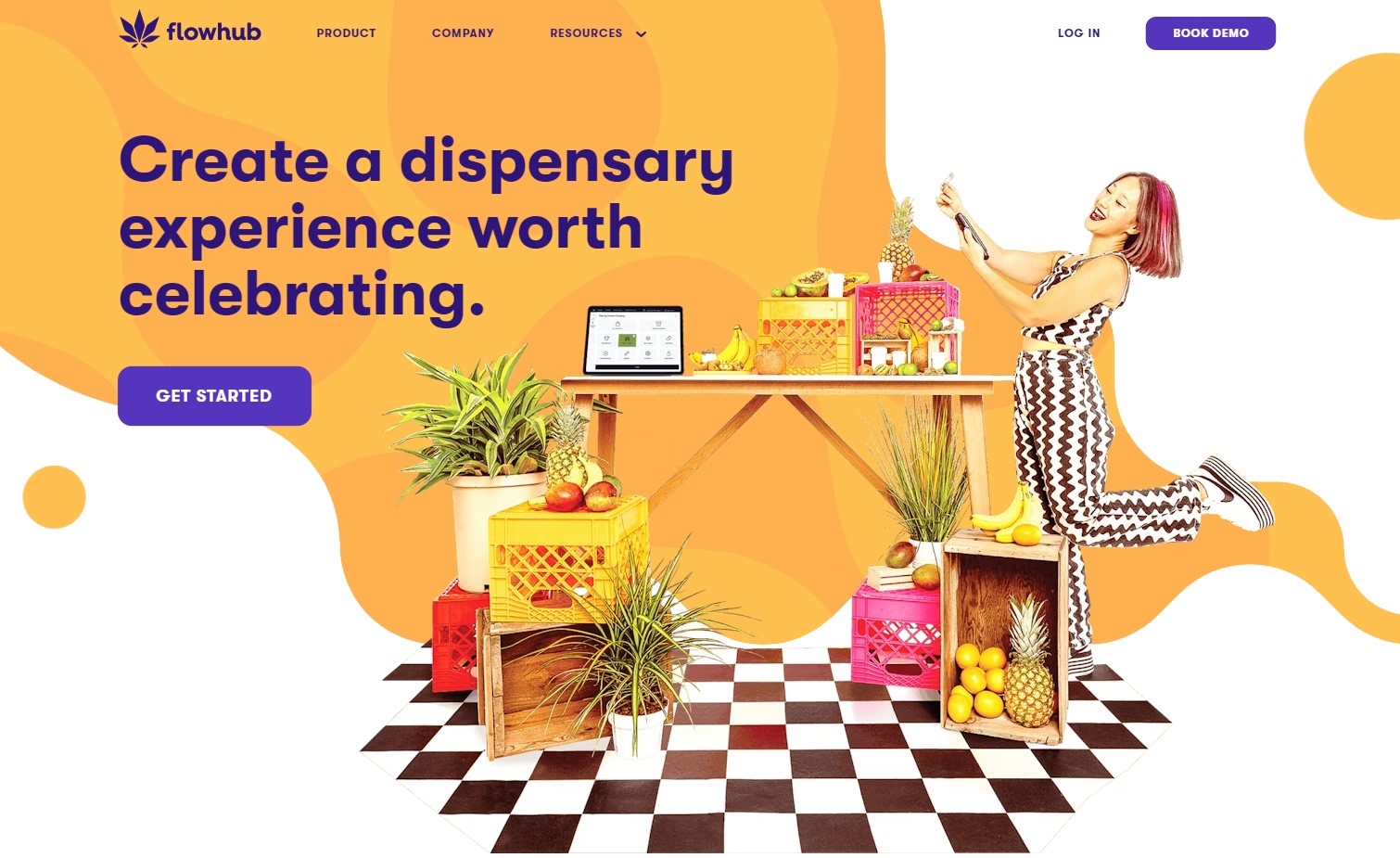 Flowhub has some of the best-in-class tools and workflows that can elevate your cannabis dispensary to the next level. You'll enjoy seamless integration with state and federal reporting databases, simple integrated payments, and more under one simple login.
Need to modify permissions across employees with access to the system? No problem! Flowhub's user-friendly interface makes it quick and easy to adjust these. Plus, each time you make a transaction, you'll earn rebates without paying a transaction cost for dispensaries or a monthly fee.
Here are a few more standout features the platform offers:
Product catalog
Tax configurator
Out-the-door pricing
Loyalty program
Order management
Compatibility with Weedmaps and Dispense
Real-time backend reporting
LeafLogix by Dutchie
Website: https://trydutchie.com/pos
Price: Request a quote
Free Option: None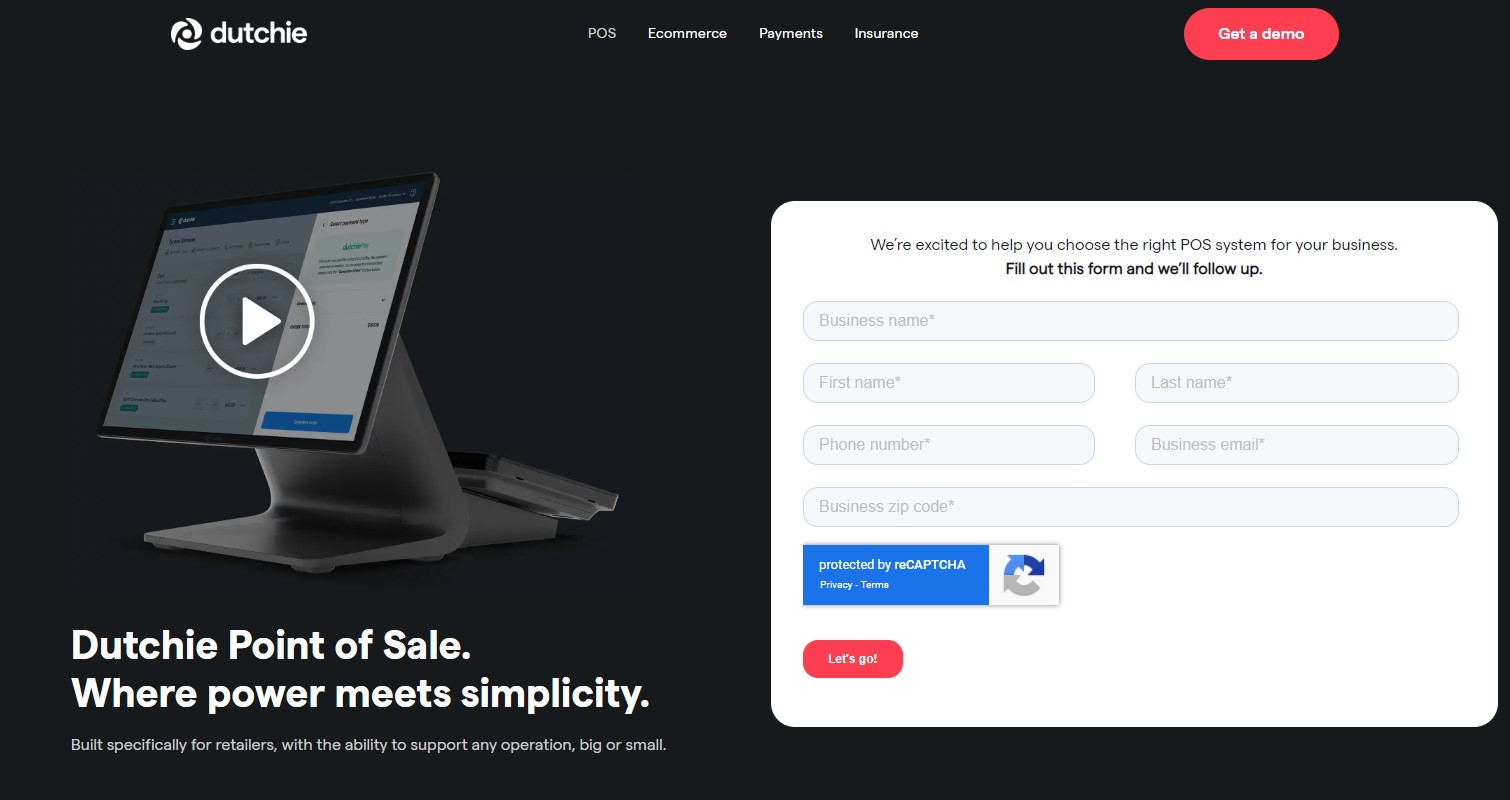 The easiest way to implement POS at your dispensary is to choose an option that has it all. LeafLogix by Dutchie offers software solutions that support your front-of-house and back-of-house employees in the ways that matter. What's even better is that it's built for speed and efficiency, so you'll be able to reduce wait times, serve more customers in a shorter time period, and ultimately increase your revenue.
If you receive orders across multiple platforms, LeafLogix by Dutchie can optimize your workflows by combining all orders in the same place. Then, the platform's fully integrated payment system makes checking out a breeze for employees and customers alike. Since customer and employee satisfaction are vital to the success of any business, it's no surprise that using this platform can transform your biz.
Green Bits
Website: https://business.dutchie.com/greenbits
Price: Request a quote
Free Option: None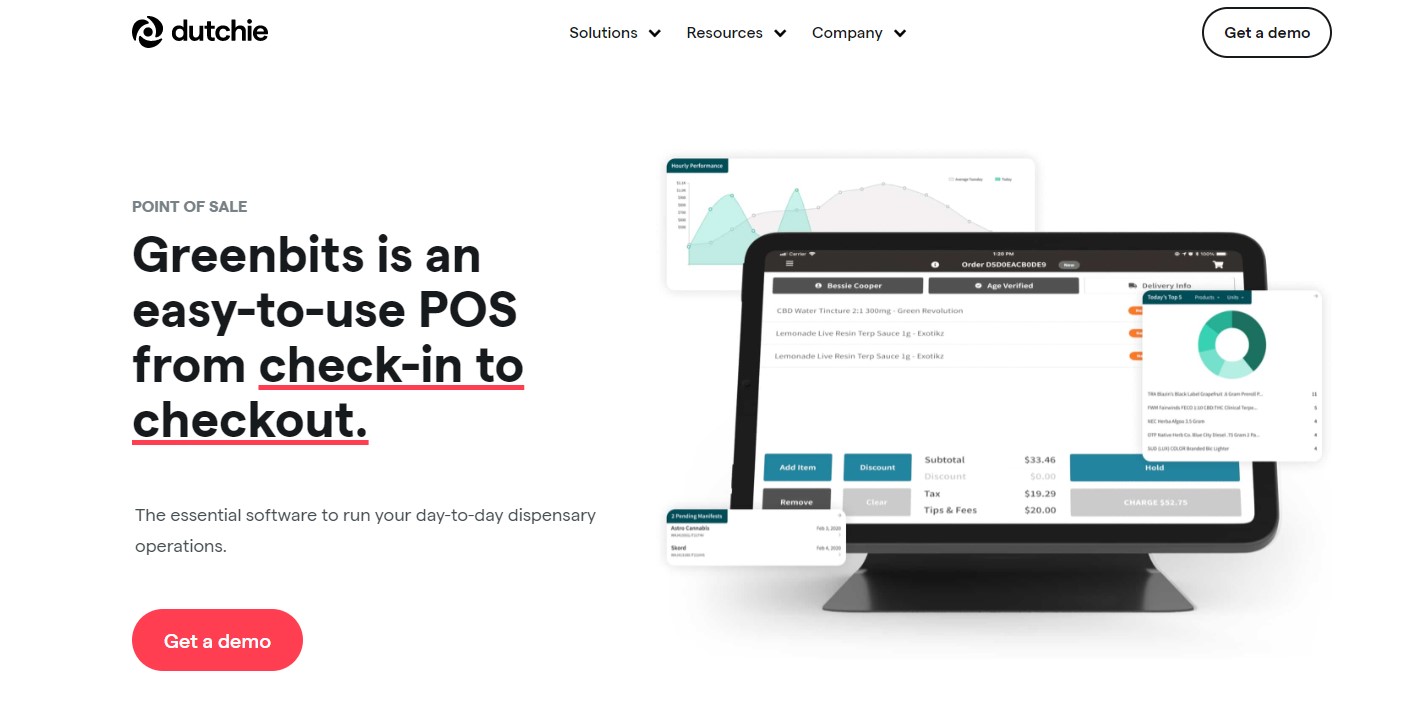 If you're looking for a simplified dispensary POS system that hones in on the basics, Green Bits might be a perfect fit for you. Since the platform focuses on simplicity, you can quickly and easily train budtenders on the tools they need to provide a positive experience for clientele.
Compliance with state and federal regulations has also never been easier; Green Bits sends all the reporting for you so that you can spend your time growing and nurturing your business. With automated traceability and real-time reports available at your fingertips, you have the power to ensure daily operations are smooth to provide a seamless customer experience.
GrowFlow
Website: https://www.growflow.com/
Price: Request a quote
Free Option: 30-day free trial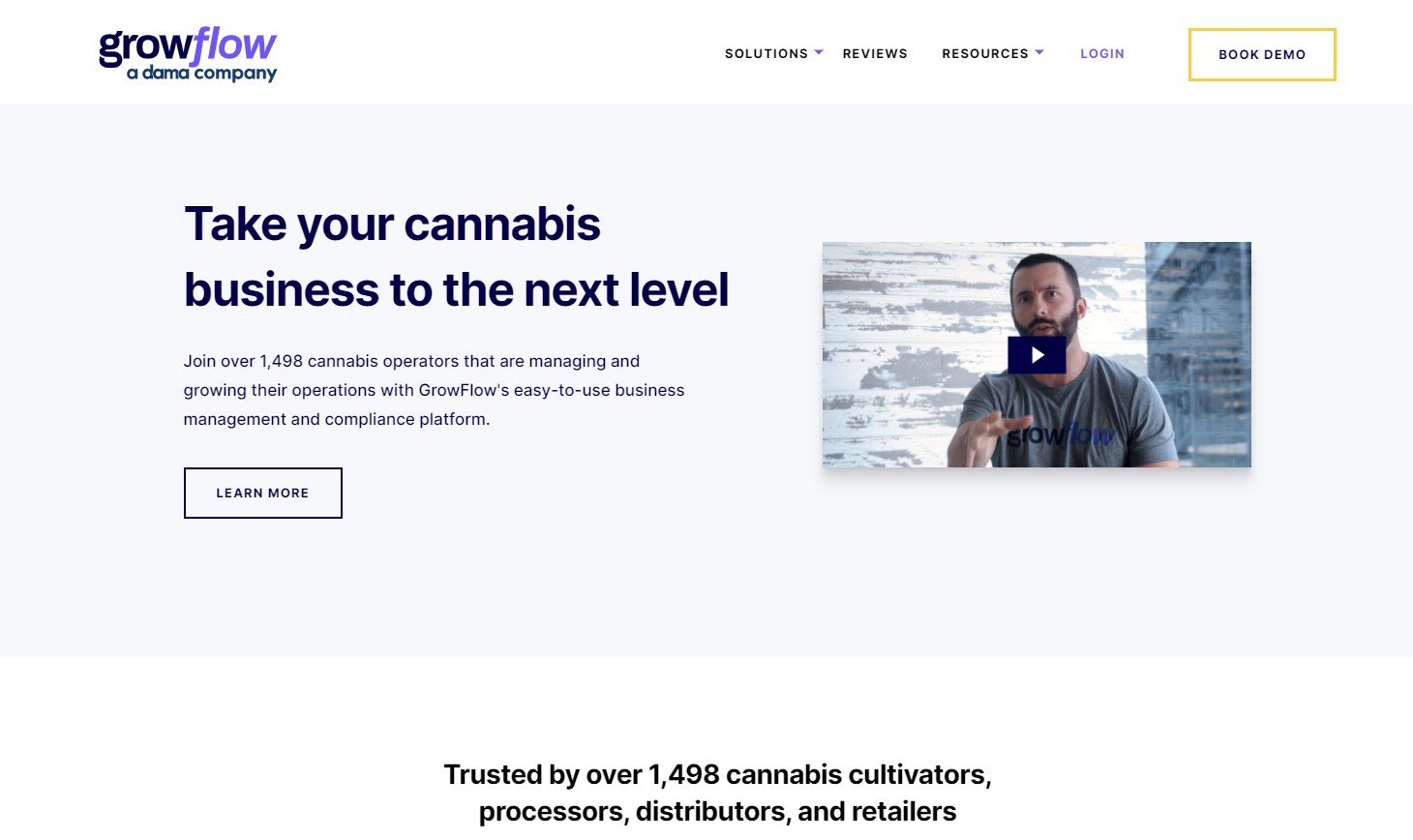 Looking for a tried-and-true dispensary POS system that's loved by the masses? Thousands of other cannabis dispensary owners just like you use GrowFlow and rave about the difference it has made in their businesses. Most-loved features include automated compliance reporting, user-friendliness, and other time-saving services.
Perhaps the most impressive thing about GrowFlow is their customer support. If you run into an issue, you won't need to make a lengthy phone call or send an email. Instead, there's a convenient chat window at the bottom of each screen that you can use to receive immediate support. That means budtenders can independently work through issues that arise and leave you more time to focus on the big stuff.
MJ Freeway
Website: https://mjfreeway.com
Price: Request a quote
Free Option: Free demo
If you're looking for a dispensary POS system that has withstood the test of time, MJ Freeway is an excellent option. It was developed by an investor in one of the first ten cannabis dispensaries in Colorado. With a team of other tech experts, the very first software built specifically for the cannabis industry was born: MJ Freeway Business Solutions.
Today, MJ Freeway is an all-inclusive cannabis dispensary POS system that covers the entire supply chain from seed to sale. The software is designed to create a user-friendly experience that simplifies workflows and makes state and federal compliance a breeze. Whether you're looking to shorten lines, provide budtenders with better tools to succeed, or increase profitability, MJ Freeway is a great option for you.
Cova
Website: https://covasoftware.com
Price: Starts at $549 (details)
Free Option: None
Cova POS is ideal for businesses who want to focus on front-of-house dispensary operations. This tablet-based cannabis dispensary POS is loaded with amazing features that help your FOH staff provide a stellar experience to each customer. Cova focuses on providing a user-friendly experience and it only takes about 30 minutes to onboard a new staff member.
Compliance is paramount to dispensary operations. With Cova's built-in scanner and age verification software, you can more securely verify customers. As an added bonus, this software can also instantly link purchases to their customer profile to store loyalty points and make the check-in process a breeze.
Treez
Website: https://treez.io
Price: Request a quote
Free Option: None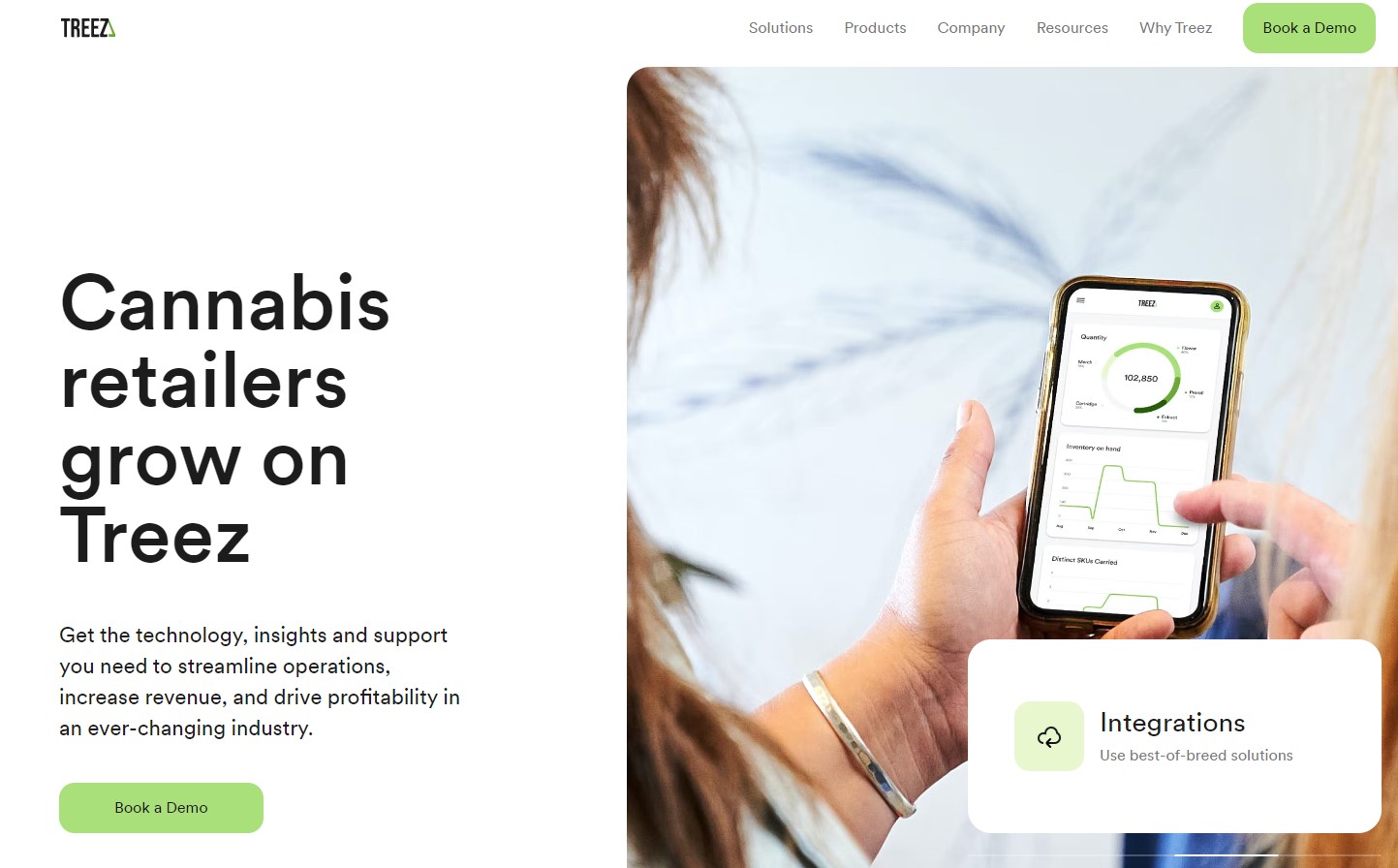 Treez is a cannabis POS system that is focused on your success. The platform's business model is guided by customer feedback, which means they understand the pain points you experience and are committed to solving them. Check out these case studies on their website to see how other industry professionals just like you have seen success with the platform.
Here are a few of the most exciting features Treez has to offer:
Inventory management
Automated compliance
Intelligent analytics
Online ordering and e-commerce
Customer loyalty and marketing tools
Meadow
Website: https://getmeadow.com/
Price: Request a quote
Free Option: None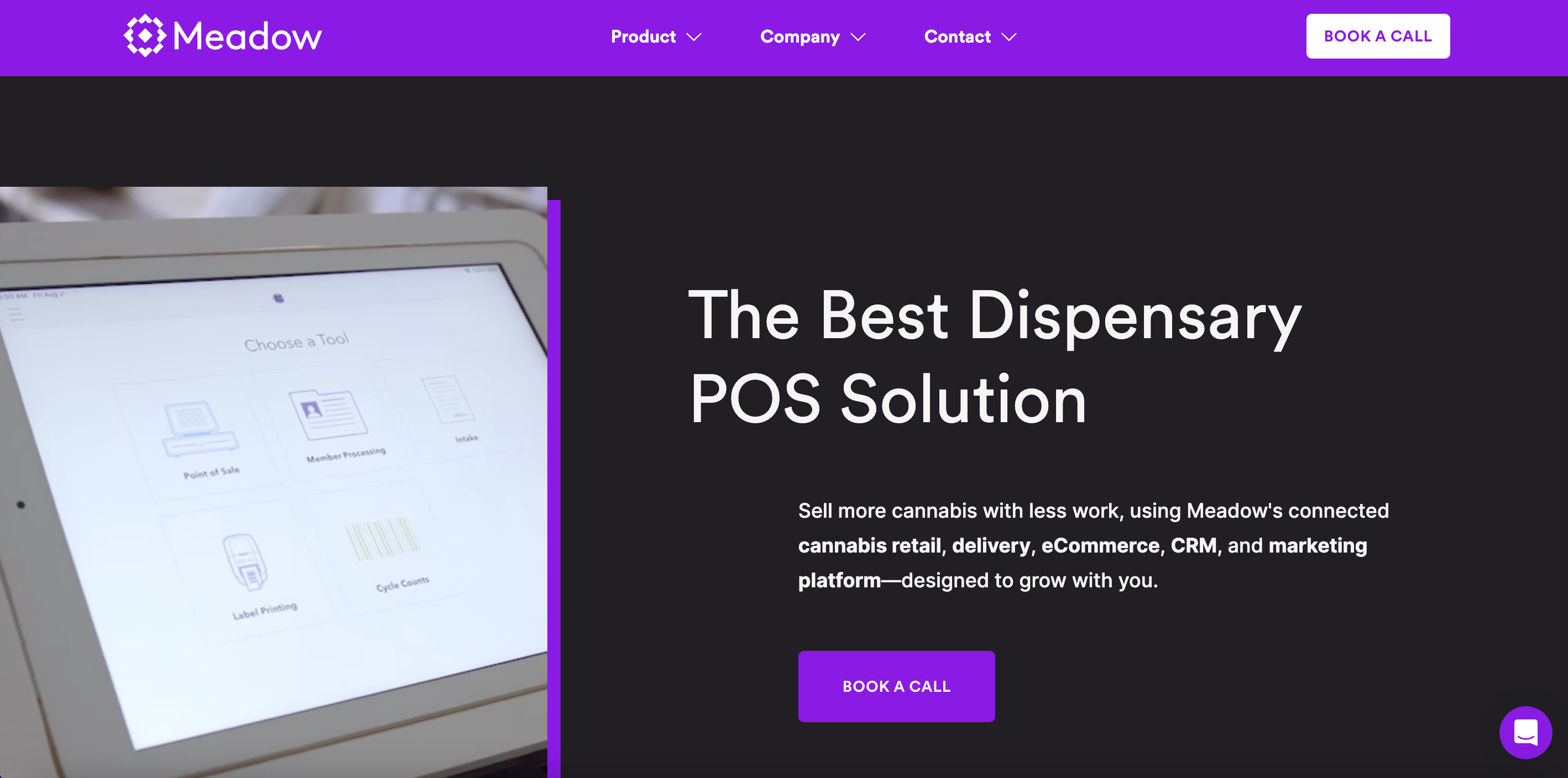 Since 2014, Meadow has built a full suite of connected software tools: point of sale, delivery, eCommerce, a robust customer database, plus text marketing, loyalty programs, discounts, compliance, reporting, analytics and more. With superior customer service, intuitive tools, and robust sales and customer data you can turn into marketing campaigns, Meadow makes it easy for dispensaries to sell more cannabis with less work—everything you need for streamlined operations in front and back of house, in-store and online.
Say goodbye to inventory inaccuracies, incomplete reports, and manual data entry to manage multiple platforms—saving an estimated 20% in labor costs through smart, automated workflows.
Headquartered in San Francisco, the birthplace of the medical cannabis legalization movement, Meadow is dedicated not only to building the best dispensary POS, but also to unifying collective efforts to push the cannabis legalization movement forward, helping educate and build a collaborative industry around this plant.
Integrate the Best Dispensary POS System with SparkPlug
There's no doubt that choosing the best dispensary POS system for your business is a great way to improve your bottom line. Equipping your employees with the tools they need to succeed enables them to improve your customer experience. When customers are happy, they keep coming back, which spells more revenue for you.
One of the best ways to ensure that you're championing an environment of growth in your business is to put your employees first. Try integrating SparkPlug with your cannabis POS system today to start rewarding your employees for a job well-done and watch your business scale!