At Shoptalk's 2023 event, industry leaders gathered to share insights on how retailers can improve their profitability through innovative experiential retail strategies.
Among the panelists were Tolga Öncü, the COO of IKEA, renowned for their "blue box stores", and Carrie Baker, the President of Canada Goose, a major player in the Canadian market. The interviews were conducted by Hilary Milnes, Executive Americas Editor of Vogue Business, and Joe Laszlo, VP Content of Shoptalk.
IKEA Evolving Beyond the "Blue Box Store"
Joe Laszlo mentioned that "An IKEA experience is going to be an IKEA experience wherever you go around the world." He pointed out the world-famous Swedish meatballs and winding layouts that we all know and love.

COO of IKEA, Tolga Öncü talked about how these experiences are consistent around the world, however IKEA stores are also evolving. The distance to the closest store was something they kept hearing. "We had people complaining that our stores are too far from where they lived." Öncü believes that whether that is the case of just perception (due to increases in traffic or other factors), or reality, it was something they had to address.
This led to an entirely new concept for city centers where IKEA takes shape around the unique needs and demands of urban areas.
These new inner-city IKEA stores are being used in very different ways than the traditional blue box stores. Households used to consider IKEA as a destination and planned it as an outing in advance. Now they are able to stop in on their way back from work or order items online for pickup.
Experiential Store Concepts Capture Shoppers' Attention
Canada Goose, a high-end outdoor clothing brand, only recently started their retail footprint with the first standalone store opening in 2016. The brand aims to expand rapidly, with plans to open up to 150 stores over the next five years.
One of the unique strategies employed by the company's President, Carrie Baker, is to prioritize a rollout plan that is both financially feasible and attractive to consumers. This approach emphasizes creating experiential store formats that engage shoppers and enhance their overall shopping experience. By prioritizing strategic growth and customer satisfaction, Canada Goose is positioning itself for long-term success in the competitive retail landscape.
Shoppers want to experience how Canada Goose products will feel in the real world. Their innovative "Cold Room" concept caters to this consumer desire. The Cold Room doesn't have any inventory and includes technology that creates cold temperatures and real snow.

Other technology in each experiential store includes:

A digital glass flooring entryway, equipped with active sensors, detects footsteps and creates the sensation of walking over cracking ice.
The "Elements Room" features 60-foot wide curved displays that project 4K content, immersing shoppers in nature and taking them on a seasonal journey through stunning landscapes.
In the Cold Room, shoppers can test jackets while being digitally transported to the Arctic.
Interactive "hotspots" displayed alongside Snow Mantra parkas allow guests to explore specific features and functions of the parkas.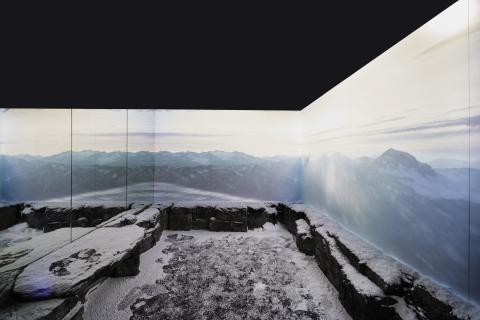 Image via RIS News
Technology that Adds to the Customer Experience
Baker believes that their brand ambassadors (retail employees) are the "experience bringers," and that their role is crucial in providing a warm and welcoming experience to customers. Baker emphasizes that technology is there to make their jobs easier, whether it's a queuing system or a mobile point of sale.
The goal is to create an experience that stands out from traditional, staged, luxury experiences. The company understands that the experience their customers have is highly valued, and they work hard to ensure that their brand ambassadors are equipped with the tools and knowledge they need to provide the best possible experience. With this approach, Canada Goose continues to set the standard for customer service and experience in the outdoor apparel industry.
Listen to Consumers, Not Just the Bottom Line
The common theme in these keynotes was how IKEA and Canada Goose listened to the unique needs of their customers.
Instead of setting arbitrary and linear growth goals for the number of stores or sticking to existing formats, they found the gaps that other retailers and brands weren't addressing.
Creating excitement and brand advocacy within your customer base is the most effective way to ultimately impact customer lifetime value.