As cannabis legalization continues sweeping the United States, the industry is set up for tremendous growth. To speak to this, the cannabis industry is one of the fastest-growing industries in the United States, with a projected value of $73.6 billion by 2027. However, this growth must be accompanied by a commitment to social equity and justice. To ensure that the benefits of the emerging cannabis industry are shared equitably, it's critical to create a fair and just cannabis industry. In this article, learn what steps can be taken today.
Social Equity in the Cannabis Industry: The Stats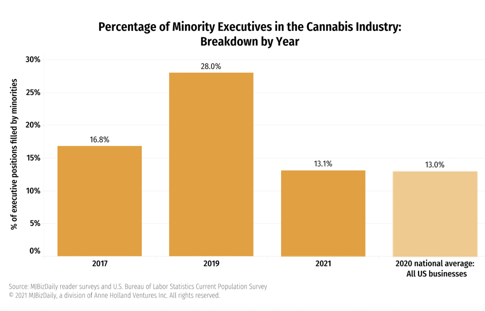 A report found that the % of executive positions by women and minorities in Cannabis fell from 30% (2019) to 13% (2021). (Marijuana Business Daily)
A survey found that only 4.3% of cannabis businesses were owned by Black people, and only 6.7% were owned by Hispanic/Latinx people. (Minority Cannabis Business Association, MCBA)

A report found that in states that have legalized cannabis, Black and Hispanic/Latinx people are still significantly underrepresented in ownership and leadership positions in the industry. For example, in Colorado, Black people represent only 1.5% of cannabis business owners, despite making up 4.5% of the state's population. (Drug Policy Alliance)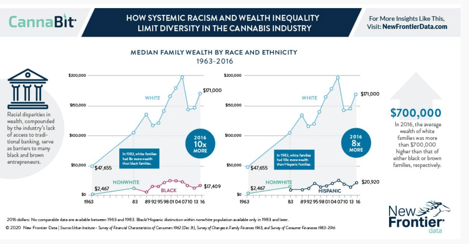 A study found that in the US cannabis industry, 81% of business owners are white, while only 4.3% are Black and 5.8% are Hispanic/Latinx. (New Frontier Data)

For more insights, check out the 2023 Cannabis Industry Predictions Report

Rise of Social Equity Initiatives in the Cannabis Industry
These statistics demonstrate that social equity remains a significant issue in the cannabis industry, and more work is needed to address the disparities in ownership and participation. Incorporating social equity programs in states that have legalized cannabis is a positive step. States must do more to ensure that these programs are adequately funded and effectively promote industry diversity, equity, and inclusion.

States That Have Incorporated Social Equity
These programs aim to address the lack of diversity in ownership and participation in the cannabis industry and provide resources and support to individuals from communities that have been unfairly impacted.

While there's still much work, incorporating social equity programs is a positive step toward promoting equity and inclusion in the cannabis industry. To learn more on movers and shakers in the Cannabis industry, read here.
Resources To Support Inclusivity in Cannabis
Equity-Now is a Scholarship Fund founded by Pressure Co in partnership with Exit-Together. Starting in St. Louis, Missouri, Equity- now has partnered with Saint Louis University to launch the Equity-Now program, which will create inclusion and more diversity in the local cannabis workforce. You must meet university requirements, and once the program is complete, the organization may connect you with Cannabis org opportunities in your state.
Supernova Women is a 501(c)3 nonprofit organization founded in 2015 by Black and Brown women that works to empower Black and Brown people to become self-sufficient shareholders in the Cannabis and natural plant medicine space through education, advocacy, and network building. Also, they regularly host webinars, networking events, and workshops to support Sacramento Cannabis equity candidates.
Last Prisoner Project was founded in 2019 to help those incarcerated for cannabis-related crimes. The Last Prisoner Project is committed to freeing every last prisoner, starting with the estimated 40,000 individuals imprisoned for Cannabis. They provide reentry resources, release, record relief, and a support fund for incarcerated constituents pursuing education.
Native American Cannabis Alliance is a joint venture between Native Health Matters and Evercore. They aim to provide indigenous people access to technology and networks to build a collaborative, sustainable, and competitive hemp and CBD supply chain and empower indigenous farmers to create opportunities within the cannabis industry.
Minorities for Medical Marijuana was established in May 2016 and had 27 state directors nationwide, including a Northern California chapter based in Oakland. M4MM's mission is to provide advocacy, outreach, research, and training related to business, social reform, public policy, and health/wellness in the cannabis and hemp industry.
The National Diversity and Inclusion Alliance serves Illinois, Michigan, and California and works daily to create equitable employment and ownership opportunities in the hemp and cannabis space. Also, they've created programs intended to decrease disparities in life outcomes for people that come from marginalized communities affected by the War on Drugs.
Cannabis Workers Coalition is a nonprofit advocate working on behalf of the 19K full-time Cannabis and helps employees in the state of Oregon. In addition, they're driven to empower and educate leaders in the industry to advocate for change.

For more resources, check out our downloadable Cannabis Incentive Playbook
Social Equity: Paving the Way in Cannabis
The rise of social equity is crucial to the success of the emerging cannabis industry.
While equality focuses on dividing resources equally, equity focuses on dividing resources proportionally to meet recipients' needs to achieve a fair outcome. Equity is essential for allowing access to those that need it. By promoting social equity in the cannabis industry, we can create a more fair and inclusive society while building a thriving industry that benefits everyone. As the industry continues to grow and evolve, we must emphasize that social equity remains at the forefront of our efforts. By doing so, we can create a better future for all.
For more on Cannabis, check out The Push for Cannabis Legalization: Is Cannabis Legal in Your State