If you are considering launching a retail store, there are many important decisions to consider before making a sale. Understanding the current market, defining your business goals, and knowing key industry terms will help any owner succeed, especially those entering the industry for the first time.
Examining the Current Retail Market
According to data compiled by the U.S. Census Bureau, retail sales grew, on average, at a rate of 3.7% a year between 2010 to 2019.
Despite the economic turmoil presented during the global pandemic, the U.S. retail sector experienced growth levels unseen in over two decades, with sales growing by 7% in 2020 and over 14% by 2021. Furthermore, the National Retail Federation (NRF) predicts that retail sales will grow up to 8%, by more than $4.9 trillion, as 2022 ends.
That's great news for anyone considering a dive into retail. Although there are always many risks to consider, it has never been a better time than now to launch a retail establishment.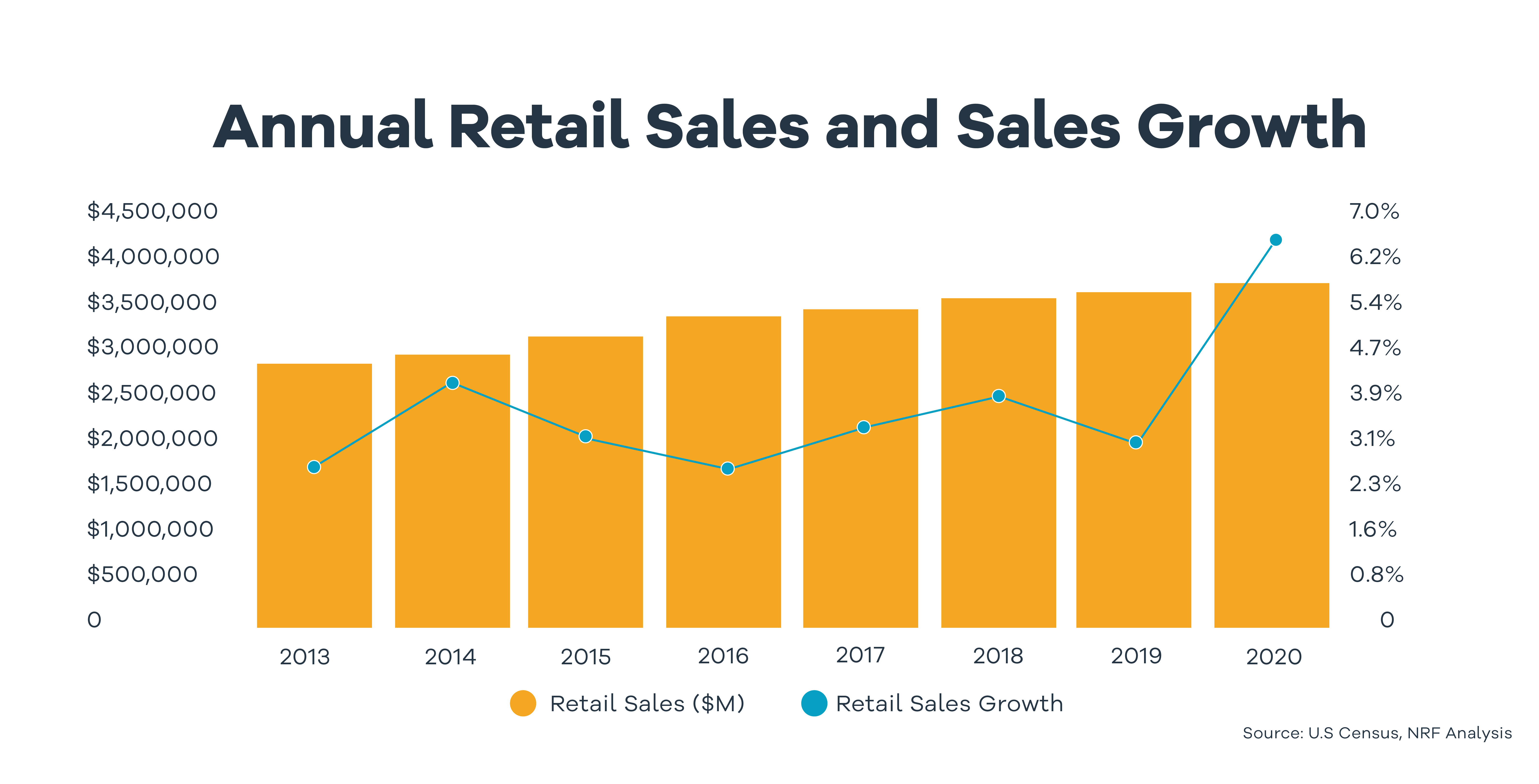 But don't take our word for it. Before you launch a retail business, do your market research. Conducting in-depth research on your product or service will provide valuable insights to guide your business decisions. It will also prepare you for the next important step in the planning process. Building your business plan and seeking funding.
Writing a Business Plan
Your business plan may be the most important document you create on your retail journey. That's because you'll need to present a well-written plan to potential investors, lenders, or future partners.
A strong business plan is comprised of several key components:
The executive summary: This is typically the first section of any business plan. It should include a mission statement, a short description of the products or services offered, and a high-level summary of how you will be profitable.
The objective statement: This statement should list your short and long-term financial goals for the business and describe the path you will take to achieve them.
Marketing and sales plan: When building this information, keep in mind the six P's of marketing: product, price, place, promotion, people, and presentation.
Financial projections: This is a vital element of your business plan, especially when seeking a bank loan or investors. Be sure to list how your business intends to repay any loan and the return investors can expect to receive.Include any existing income or profit-and-loss statements, balance sheets that list your assets and liabilities, and cash flow statements that show how cash comes into and out of the company.
Hiring Retail Staff
Great retail associates are vital to the success of any retail business. The right retail associates can boost sales and enhance the customer service experience. Instead of hiring for experience, focus on finding personality traits best suited for the demands of working with customers.
When selecting the right staff, consider these traits:
Easy to work with
Likes to help others
Outgoing with a pleasant demeanor
The ability to work together in a team setting
Strong problem-solving capabilities
Self-motivated to win
Handles conflict well


Important Retail Terms to Know
Anchor Store: A big department store featured as the cornerstone within a mall setting.
ATS (average transaction size): the amount spent per customer in a single transaction. This figure is helpful to establish if the size of sales is growing.
Carrying Cost: Also known as holding cost. This is the cost associated with inventory and storage.
Cashwrap: The checkout area of a store. Most cashwraps offer shelves of merchandise that shoppers can pick up while they wait in line.
Cross Merchandising: The practice of displaying different products together to drive joint sales.
Dead Stock: Merchandise that hasn't sold and has likely been in stock for a while.
Drop Shipping: When a retailer doesn't keep products in stock and instead sends orders and shipment information directly to the manufacturer or distributor to fill the order.
Forecast: An estimation of future demand for products and services using historical data to estimate future needs.
FIFO (first in first out): An inventory strategy that employs the strategy that the first stock should be the first stock out.
Integrated Supply Chain: A group of businesses that work together to manufacture, distribute, and sell retail items.
Gross Margin: The difference between what an item costs and its selling price. This figure helps determine sales revenue after all direct costs and expenses are deducted.
Gross Sales: The total sales over a period of time before deductions or adjustments.
Keystone Pricing: This concept of selling merchandise at a rate that's double the wholesale price.
Loss Leader: An item that's sold at a loss in order to attract more customers into a store.
Markdown: A reduction in the sale price of the merchandise to clear inventory for new products.
Net Profit: Gross sales less expenses.
Net Sales: The amount of revenue a business generates during a specific period after deducting returns, markdowns, or discounts given.
Planogram: A representation showing the best placement for how items could be arranged on shelves to drive better sales.
Product Life Cycle: The cycle a product goes through when it hits the market. Stages include a phase of introduction, growth, maturity, and decline.
Point-of-Sale (POS) System: The device used to process and record transactions by retail customers.
Private Label: A brand purchased and owned by a retailer or supplier instead of the manufacturer.
Relationship Retailing: A strategy used to establish long-term relationships with customers through techniques such as loyalty programs.
Radio Frequency Identification (RFID): A chip embedded in an item's label or packaging that stores information about the product and is primarily to help retailers monitor inventory and reduce out-of-stock items.
Shrinkage: The difference between the amount of stock that you have on paper and the actual stock on hand. Common causes of shrinkage include shoplifting, clerical errors, and supplier fraud.
SKU: A unique identification number that is given to a particular item used to distinguish products from one another. SKU information generally includes information about the style, brand, size, color of the item, and origins of manufacturing.
Showrooming: The consumer practice of examining products in a store, with the intent of buying them online at a better price.
Unified Brand Experience: A strategy to create a seamless brand experience across many channels of communication.
Webrooming: When customers search for products online before buying them in an actual store.
Interested in seeing how SparkPlug can benefit your retail start-up? Schedule a platform demo with us today.