Looking to incorporate incentives at your restaurant, but don't know exactly where to start? Let us do the heavy lifting for you. In this playbook you will find a step by step guide for individual and team based contests for your business.
If you are offering incentives at your restaurant you likely are looking to achieve some of the below goals:
Increased employee satisfaction- you want your employees to be happier
Increased revenue- you want to see sales increase
Increase in retention- you want to keep your employees around longer
Incentives are a great way to crush all three of these goals, if you have a successful plan for your business.
A few things to keep in mind before we dive into the different examples:
This playbook is set up with all rewards being cash. At your business, you can swap these out for physical rewards as well, context is still the same.
Each example is based on sales metrics per employee or as a store, this can be switched out to whatever you want to measure, some other popular ones are order average and percent of sales.
All payouts listed are relative to your business and your expenses, the numbers listed below are just examples.
Individual Incentives:
One way you can approach incentives is on an individual level. This is when you look at performance of what you are incentivizing on an individual per employee level rather than the team as a whole.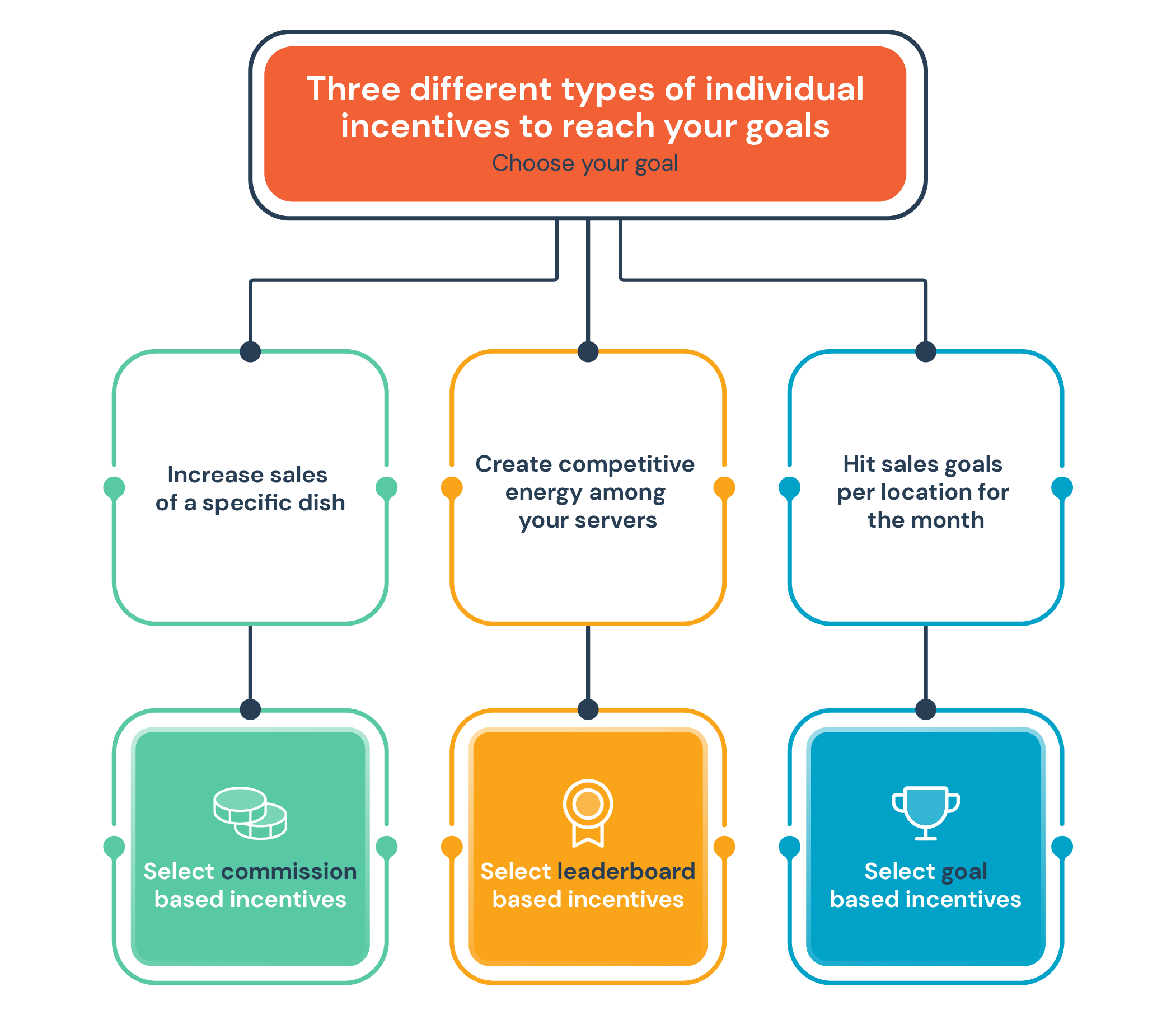 Here are some easy to replicate individual incentives.
Commission Incentives
These incentives employees will be rewarded a set dollar amount for each unit or meal they sell.

Each employee earns $2 for each special they sell.
Each employee earns $1 for each side a customer adds to an order.
Each employee earns $2 for each appetizer ordered.
For commission sparks, the reward money offered will be relative based on your business expenses. You want this number to be motivating to your employees, but also realistic to payout as a business.
Leaderboard Incentives
For leaderboard incentives, only top sellers will be rewarded for their sales.

Top salesperson this week wins $30.
Top 3 employees to sell the most holiday drinks will win $20, $30 & $50.
Top 2 employees with the most sales this month will win $25 & $40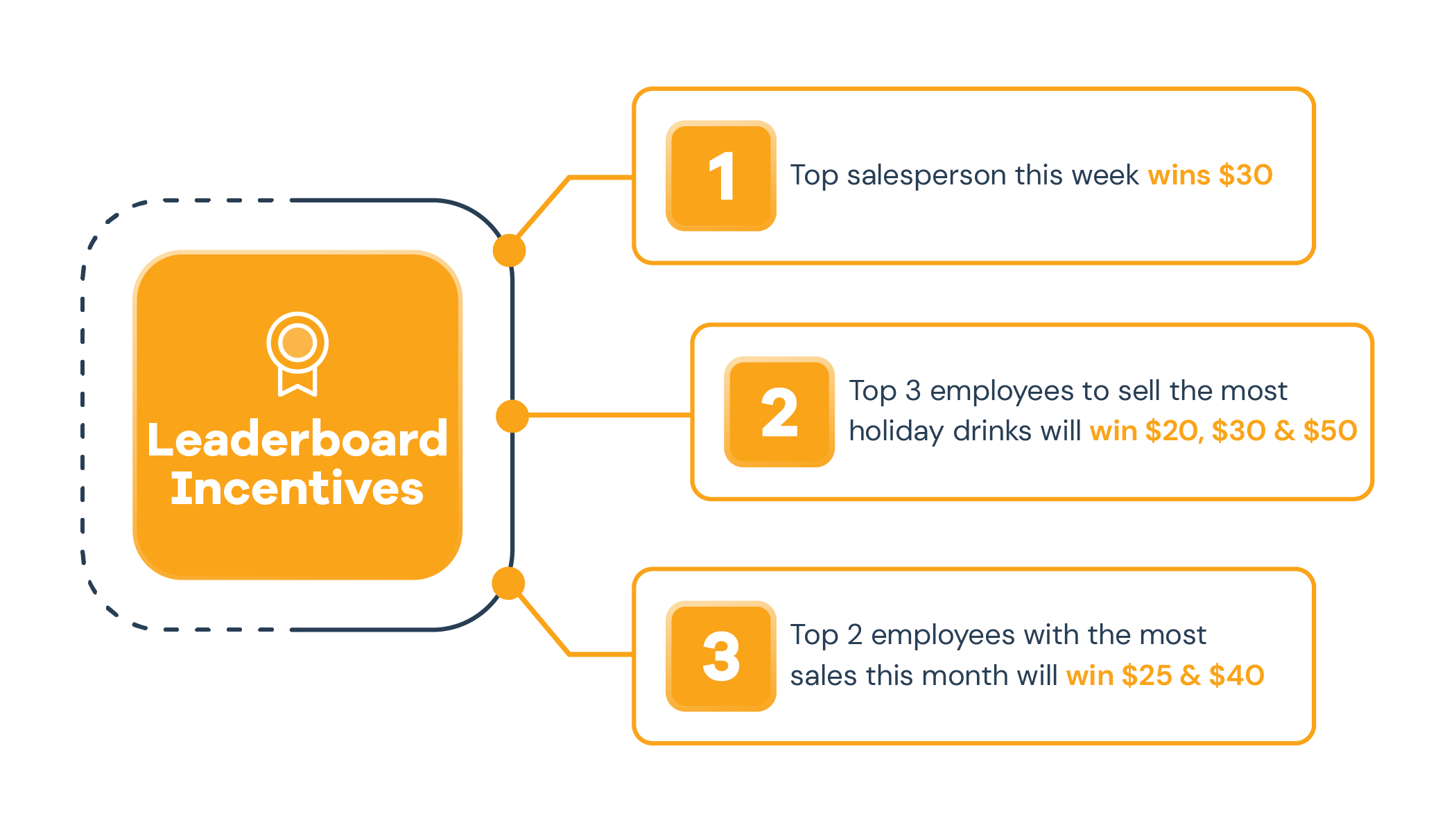 Goal Incentives
Goal incentives are when you give your employees a target to hit and when the employee hits that mark, they earn their winnings.

Sell 200 cookies this month to earn $30.
Sell 3 specials a week to earn $10.
Upsell 3 sides a week to earn $20.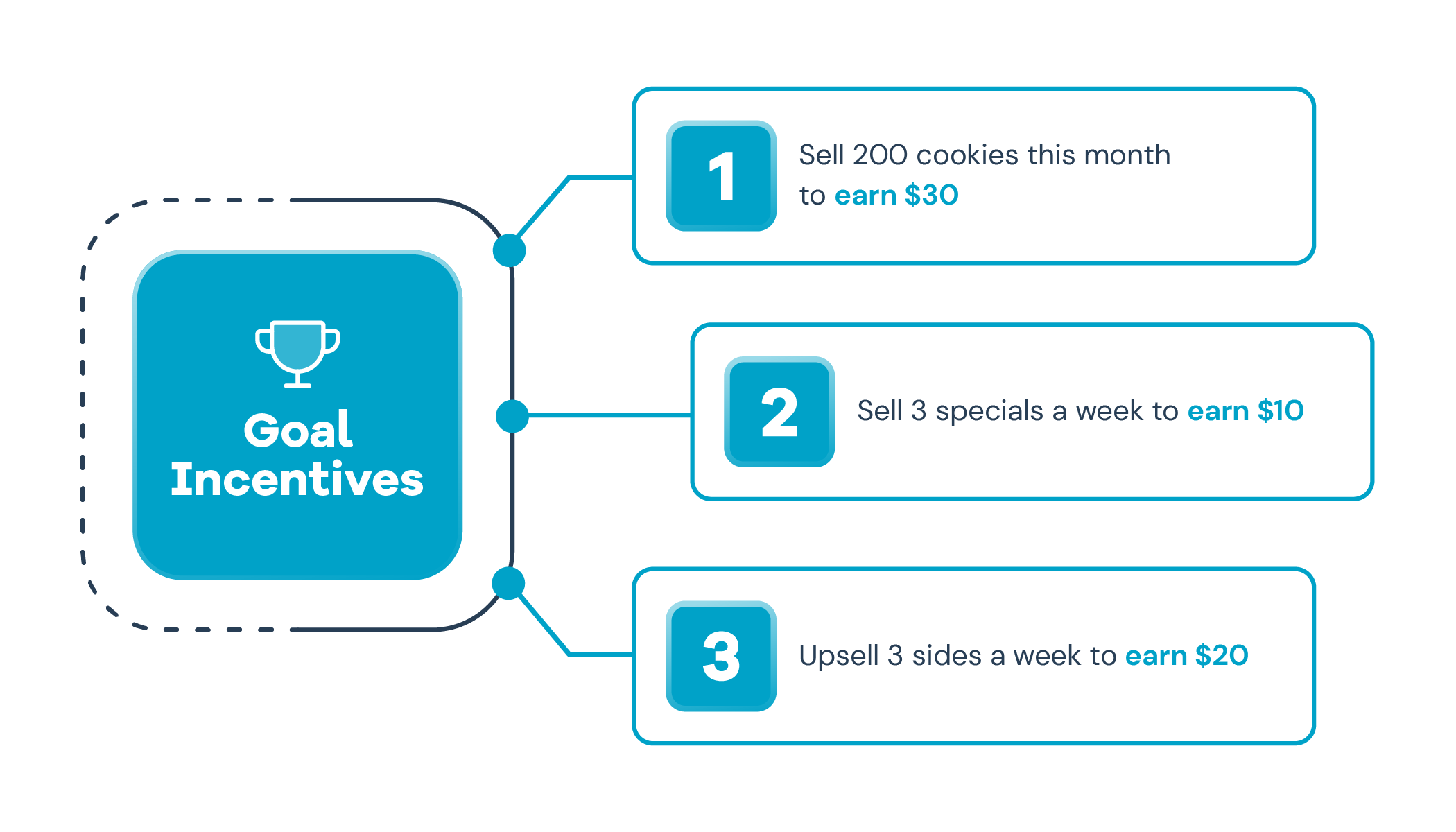 Team-Based Incentives:
The other way you can approach incentives are based on team sales and team prizes. This is when you look at total goals set by a team and either everyone wins or no one wins, there are no individual incentive winners with this setup.
Here are some easy to replicate individual incentives.
If the store hits X sales this month, each employee receives $20.
Sell 50 specials this month as a store for each employee to win $20.
Sell 200 cookies this month and every team member earns $15.
Have questions? Reach out to us here @ SparkPlug to help with all of your incentive planning needs!