Fair workweek laws are regulations that seek to make employee schedules consistent, impartial, and transparent.
These laws were created to ensure hourly, part-time, retail, and restaurant shift workers are treated fairly and given opportunities to manage personal obligations, such as a second job, continuing education, or childcare responsibilities..

Better Scheduling Practices Mean Better Sales
Let's face it, the recipe for running a successful restaurant boils down to providing a stellar customer experience that extends far beyond good food.
Today, restaurant review sites are extensively used by new and existing customers looking to answer the age-old question, "What do you want to eat tonight?" With precious time and money at stake, customers largely rely on review sites to sort through the plethora of options.
A negative customer experience in your restaurant can translate to a negative online review which untimely threatens your restaurant's reputation and sales.
A recent study conducted by a Harvard Business School professor concluded that a one-star boost to a restaurant's rating on sites such as Yelp.com is directly tied to an increase in revenue, up to 9%.
Customer complaints often found in restaurant reviews boil down to several common concerns:
Mistakes with the order
The food is cold or not prepared per request
Lack of cleanliness
The value of food is overpriced compared to the experience received
Forgetful or inattentive servers
Mistakes with the check
Unfriendly or inadequate service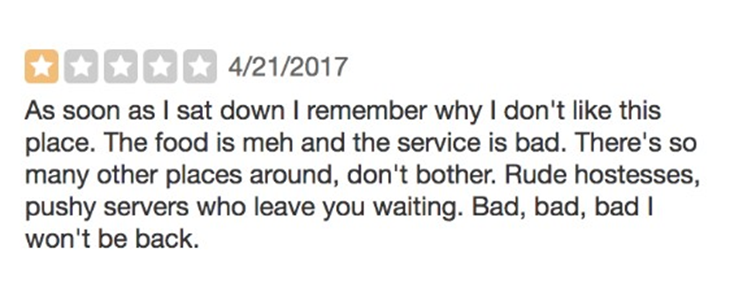 Your frontline servers are the face of your organization.They act as ambassadors of goodwill to delight customers and keep them coming back.
In almost all cases, bad service is often directly linked to bad scheduling. Having inadequate staff on hand to match demand leaves existing staff feeling frazzled, overworked, and prone to mistakes. To provide top-notch service to customers, it's paramount for restaurant managers to schedule the right frontline employees at the right time. Accomplishing this is often easier said than done.
The Rise of Fair Workweek Laws
In response to scheduling challenges, owners and managers developed a responsive approach to scheduling staff, one that requires employees to be on standby in case customer demand increases. But what works for managers isn't always what works for employees. Keeping staff on standby, and thereby dropping or adding workers without advance notice, is chaotic and prevents employees from achieving a healthy work-life balance. In fact, employees subject to on-call or unpredictable scheduling are often unable to maintain personal commitments or obtain a secondary work income.
In response to the pervasiveness and subsequent misuse of on-call scheduling, states are increasingly enacting what's known as fair workweek laws or predictive scheduling laws.
While these laws may look different from city to city, there are many commonalities found among them. Most fair workweek laws require employers to provide staff with advance notice of shift schedules so workers can plan outside schedules accordingly. Additionally, fair workweek laws often require employers to give advance notice of schedule changes or provide employees with compensation for last-minute changes.
Another common element found in scheduling laws prohibits what's known as clopenings. An example of a clopening occurs when an employee closes a restaurant during a night shift and then returns hours later to open the restaurant on the next shift. Employees who are expected to clopen suffer from lack of sleep and a sense of never leaving work. Scheduling staff to work back-to-back clopening is shown to be demoralizing to employee morale. Under most fair workweek laws, clopenings are prohibited and scheduling violations face heavy fines.
What Cities Have Workweek Laws?
Although there is no current federal law governing restaurant scheduling practices, several cities have taken the lead to provide workers with scheduling protection.
San Francisco was the first U.S. city to require large retail outlets to provide predictable schedules for workers, including their janitorial and security staff.
In both San Francisco and New York City, employers must provide workers with an advance schedule and provide new employees with a written estimate of the monthly hours they can expect to work. Additionally, both cities require employers to offer any extra hours to existing part-time employees first, before hiring new employees.
Cities with existing laws barring certain scheduling practices:
Oregon's Fair Workweek Law
In June 2017, Oregon became the first state to enact predictive scheduling laws with the passing of the Fair Workweek Act. The newly enacted law applies to hospitality, food service, and retail businesses with 500 employees or more.
Under the current law, Oregon requires employers to post shift schedules at least two weeks in advance and in both written and online formats. If changes are made to an employee's schedule after the 14-day notice period, workers are entitled to receive premium payments for each violation. Employers must also provide workers with a reasonable estimate of the number of hours staff can expect to work each month. If the employer opts to use a voluntary list of available workers to cover a shift, the employer must clearly communicate the details of how the process works to all employees. Employees can voluntarily request to be placed on the standby list but should not be coerced to do so.
Additionally, the law gives employees the right to offer input regarding day, time, or location preferences to their schedule. Although employees aren't required to approve or abide by these requests they cannot legally punish or retaliate against employees for requesting scheduling preferences.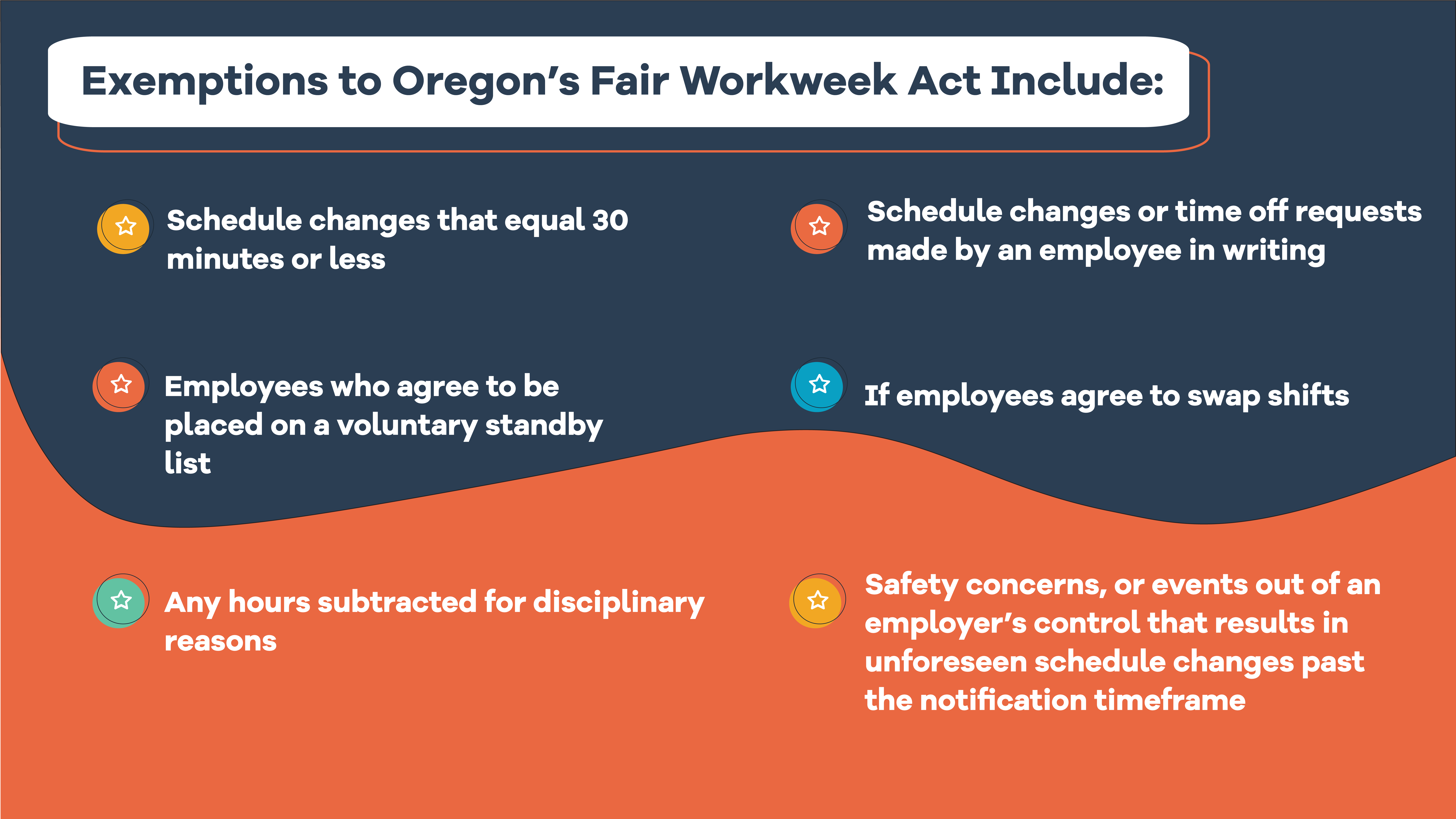 Embracing Predictive Scheduling
As more and more cities move towards fairer scheduling practices, the model established in Oregon could likely fuel additional states to follow suit. Even if a restaurant isn't regulated by local or state law, establishments should review and revamp existing policies to stay ahead of the labor curve.
It's no secret that staff turnover in restaurants is high. Historically, the food service sector experiences an average turnover rate of 50% or more. Faced with the additional burdens of a weakened economy, inflation, and the previous health crises, restaurants are struggling to provide adequate staff coverage now more than ever.
Keeping your frontline staff happy translates to better staff retention and better customer experiences --which ultimately translates to better revenue for your business. Restaurants that prioritize employee work-life balance through fair scheduling practices are ahead of the game.
Implement Scheduling Changes
Finding the right balance between what's needed and what's fair can be challenging for owners and managers. A few tips to keep in mind include:
Map out shifts on a spreadsheet or use scheduling software to help you see the big picture.
Consider all factors such as employee preference, customer volume, sales spikes, required certifications or licenses, and any existing compliance rules.
Asking applicants about their scheduling availability and limitations during the hiring process is a good place to start when assessing who will fit the needs of the restaurants.
Stay ahead of the game. The most functional schedules are thought out in advance.
Consider capping schedules at a maximum of 8 hours per shift to prevent burnout and keep staff engaged while still providing them ample opportunity to earn wages.
When in doubt, consult your staff. Chances are your frontline staff knows the right coverage needs of your establishment better than you do. They are the ones in the trenches after all.
Scheduling Practices to Avoid:
Cutting shifts short or sending employees home before they have worked the full shift they expected.
Scheduling staff to work a clopening without providing acquaint time to rest between shifts
Failing to make any effort to accommodate employee requests regarding the days and times they can work.
Punishing employees with low hours or undesirable shifts for their time off requests, scheduling preferences, or their refusal to work a shift last minute.
Connect with SparkPlug today to learn how we can help keep your restaurant staff engaged, motivated, and incentivized while also boosting your sales.