If you're looking to increase sales and employee satisfaction, you might be surprised to learn that implementing a high-quality iPad POS system for your restaurant could be the solution.
Since using the right POS system streamlines the service process, you could be one simple step away from improved employee retention. Did you know that implementing a restaurant POS system can also reduce wait times? That means you'll be able to serve more customers in less time, which could lead to increased profits for you.
There is no shortage of advantages when it comes to using an iPad POS system. Let's take an in-depth look at a few of the best iPad POS systems for restaurants.
How to Choose the Right iPad POS System for You
There's no doubt that implementing an iPad POS system has the potential to improve many areas of your business. However, not all POS services are created equally. You'll need to consider your personal needs as a business owner as well as what pain points you want to solve by investing in one.
First, you'll need to determine your budget. Many iPad POS systems offer yearly or monthly rates, and much of the time, you'll take advantage of a discount for paying annually. By determining how much you can pay up front, you can better narrow down your options before comparing the features they offer.
Next, you'll need to research the available options in your price range. Reading reviews from other restaurant owners, comparing available features, and investigating each option's capabilities are great places to start. For example, if you take orders online and in-person, you'll need a POS system that can support both.
Finally, don't forget to consider what the future looks like for your business. For example, do you plan on launching a loyalty system or opening a new restaurant in the future? If so, you'll need iPad POS software that can support these initiatives and ultimately allow your business to grow.
Luckily, there are plenty of great options out there that can meet all your POS system needs. Let's take a look at the few best choices.
Lightspeed Restaurant
Website: https://www.lightspeedhq.com/pos/restaurant/
Price: Starting at $69 per month (details)
Free Option: None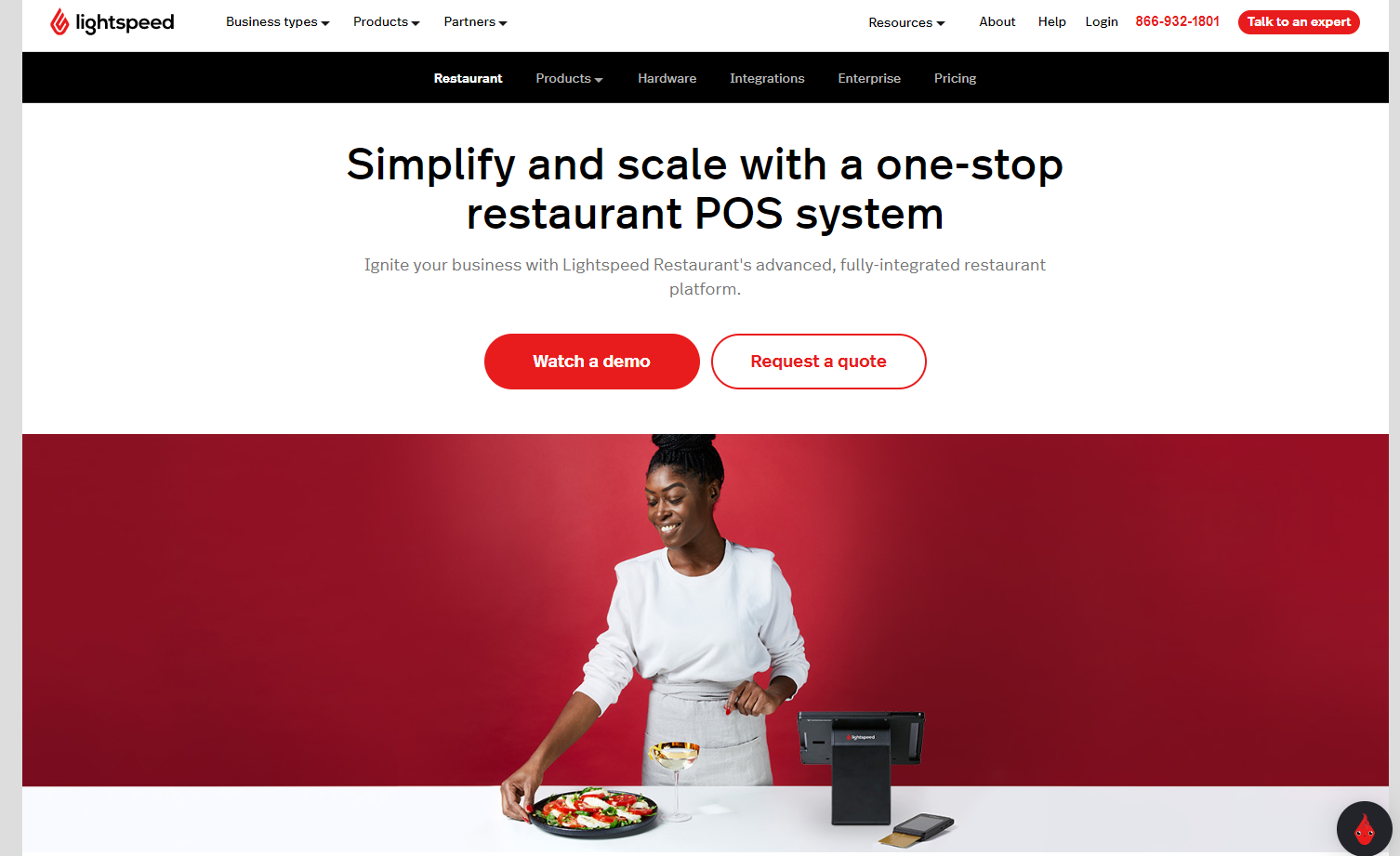 If versatility is important to you, Lightspeed Restaurant is a great option. This iPad POS system offers a wide variety of bells and whistles that can have a seriously positive impact on your business. Here's a quick rundown of some of the most popular features of Lightspeed Restaurant:
Delivery and contactless ordering
Easily modify floor plan in-app
Multiple payment types
Real-time transaction data
Compatible with DoorDash, UberEats, and SkipTheDishes
One of the biggest perks of using Lightspeed Restaurant is that there are no hidden costs or installation fees needed, which leaves more money in your pocket to make your restaurant all it can be.
Square for Restaurants
Website: https://squareup.com/us/en/point-of-sale/restaurants/full-service
Price: Starting at $60 per month (details)
Free Option: Basic free plan available

Whether you need to support multiple storefronts or you're looking for an iPad POS system for restaurants that scales with you, Square for Restaurants can help. With this POS, you'll have access to unmatched support, speedy order entry, auto gratuity, ticket timers, valuable daily reports, and more.
Another major advantage of using Square for Restaurants is their robust offering of hardware solutions that can level up your restaurant. You'll be able to sync up the app with state-of-the-art equipment like barcode scanner options that increases employee satisfaction rates and keeps customers coming back.
Rezku
Website: https://rezku.com/
Price: Starting at $49 per month (details)
Free Option: 7-day free trial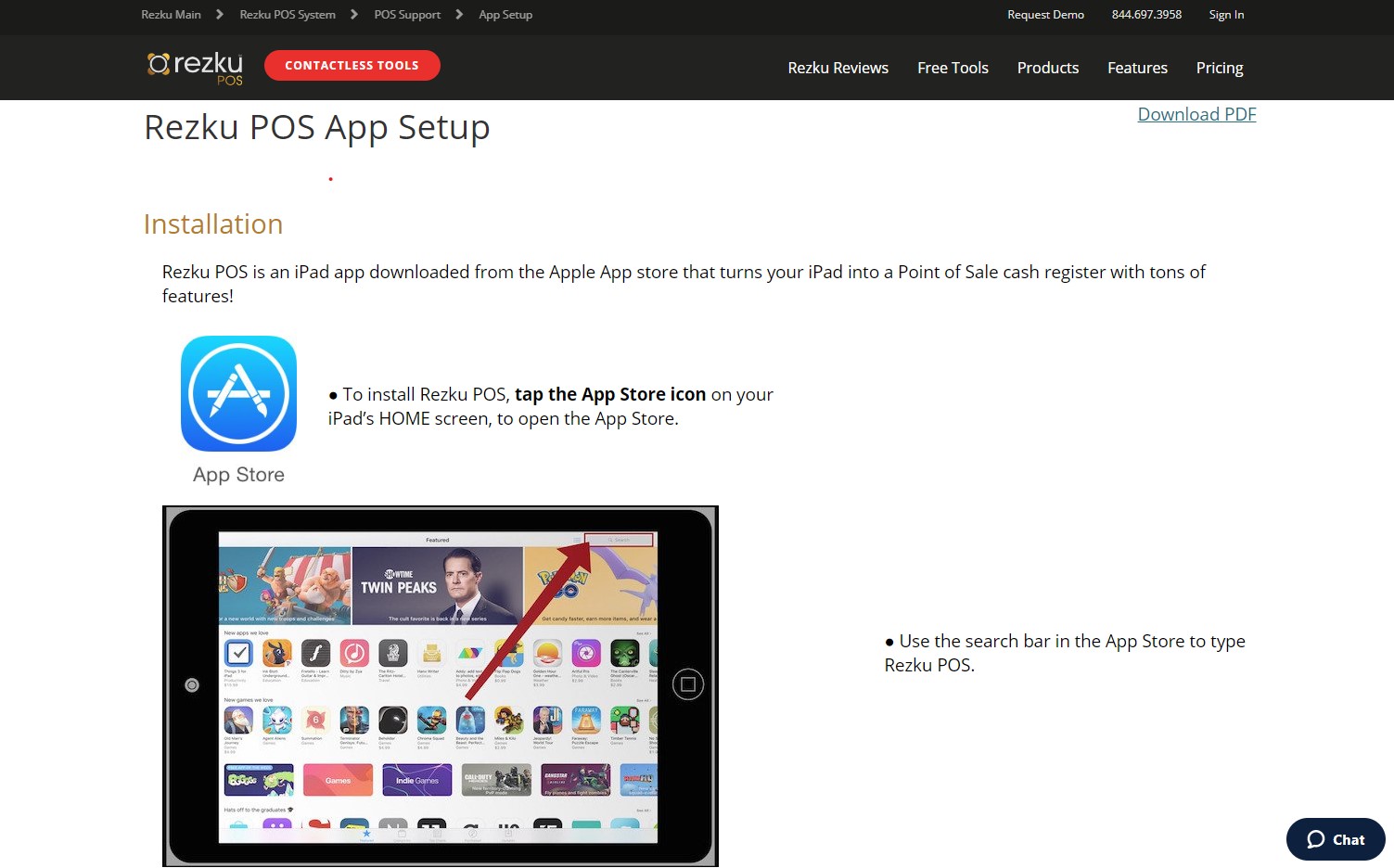 Rezku POS for iPad is loaded with features that can improve your employee and customer experiences. With a budget-friendly price of only $49 per month and compatibility with your existing iPad, you can harness the power of high-quality technology without breaking the bank.
Here are a few of Rezku's most impressive features:
Online ordering with live throttling, virtual gift cards, and integrated rewards
Tableside POS equipped with tap to pay
Full integration with third party apps like DoorDash and UberEats
Maps integration routes internal delivery drivers
Clover
Website: https://www.clover.com/
Price: Starting at $150 per month (details)
Free Option: None
If you need multiple cash registers or you need a system that communicates across a few locations, using an iPad instead of POS hardware might not be the right decision. While iPads are ideal for small to medium operations with one to two stations, the truth is that table top POS systems specifically designed for that purpose have faster processing speeds and are more reliable when compared to catch-all devices like tablets.
Luckily, you can still use your iPad in combination with a table top POS system with Clover. Take orders and payments on the go by using the iPad as your mobile POS system and utilize the stationery, Clover-branded equipment to handle the rest.
Arryved
Website: https://arryved.com
Price: Contact sales
Free Option: None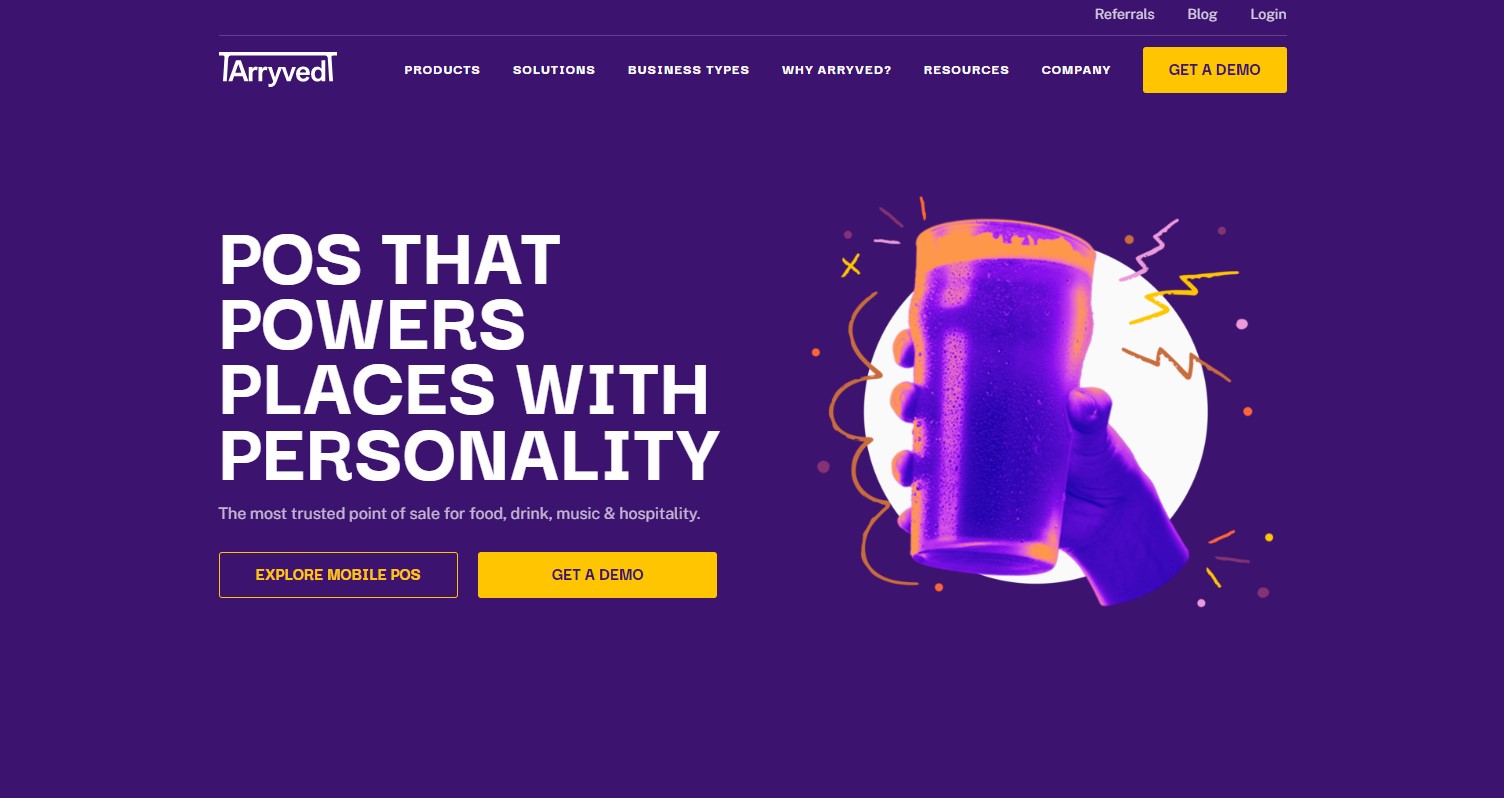 It's no secret that investing in a new POS system for your restaurant can be a hefty expense. Even though the investment can boost sales while improving customer and employee satisfaction, the fact is that many POS systems are cost-prohibitive for restaurants that are just starting out or that struggle to turn a profit.
The good news is that using a high quality iPad POS system like Arryved could be the answer to all your problems. With Arryved, you won't pay a dime for customer support, onboarding, training fees, or an online storefront. These savings greatly reduce your initial investment, which can make it possible for you to start boosting your revenue without spending an arm and a leg on POS.
TouchBistro
Website: https://www.touchbistro.com/
Price: Starting at $69 per month (details)
Free Option: Free product demo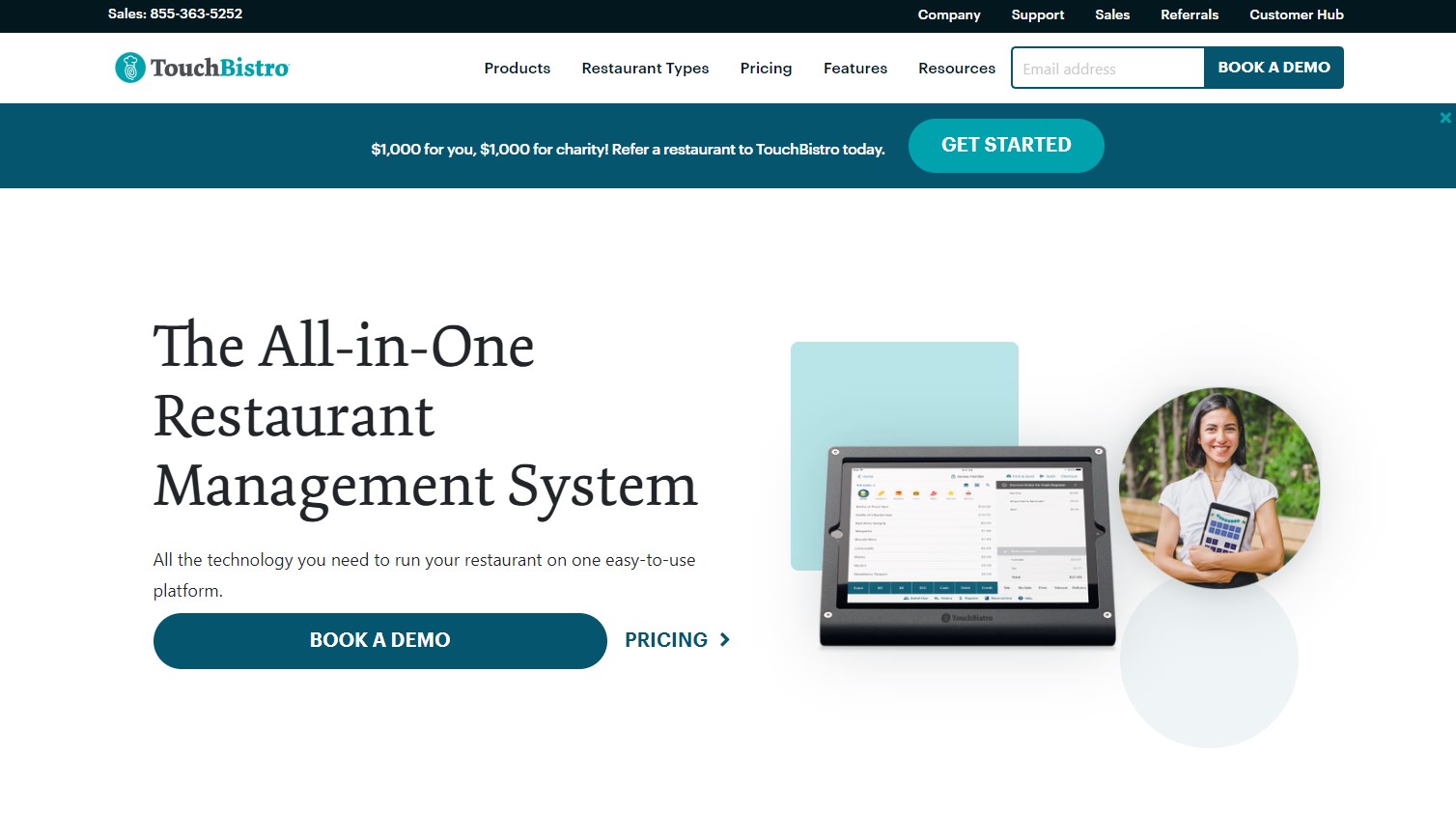 Making sure your restaurant runs at peak performance is the best way to boost sales and promote a positive experience for all. With TouchBistro, you have the tools you need at your fingertips to create an environment where accuracy and efficiency are held to the highest regard.
Let's take a look at a few of the best features TouchBistro has to offer:
Manage reservations
Online ordering
Built-in marketing platform
Gift cards
Loyalty program capability
CAKE OrderPad
Website: https://madmobile.com/partners/orderpad/
Price: Starting at $49 per month (details)
Free Option: None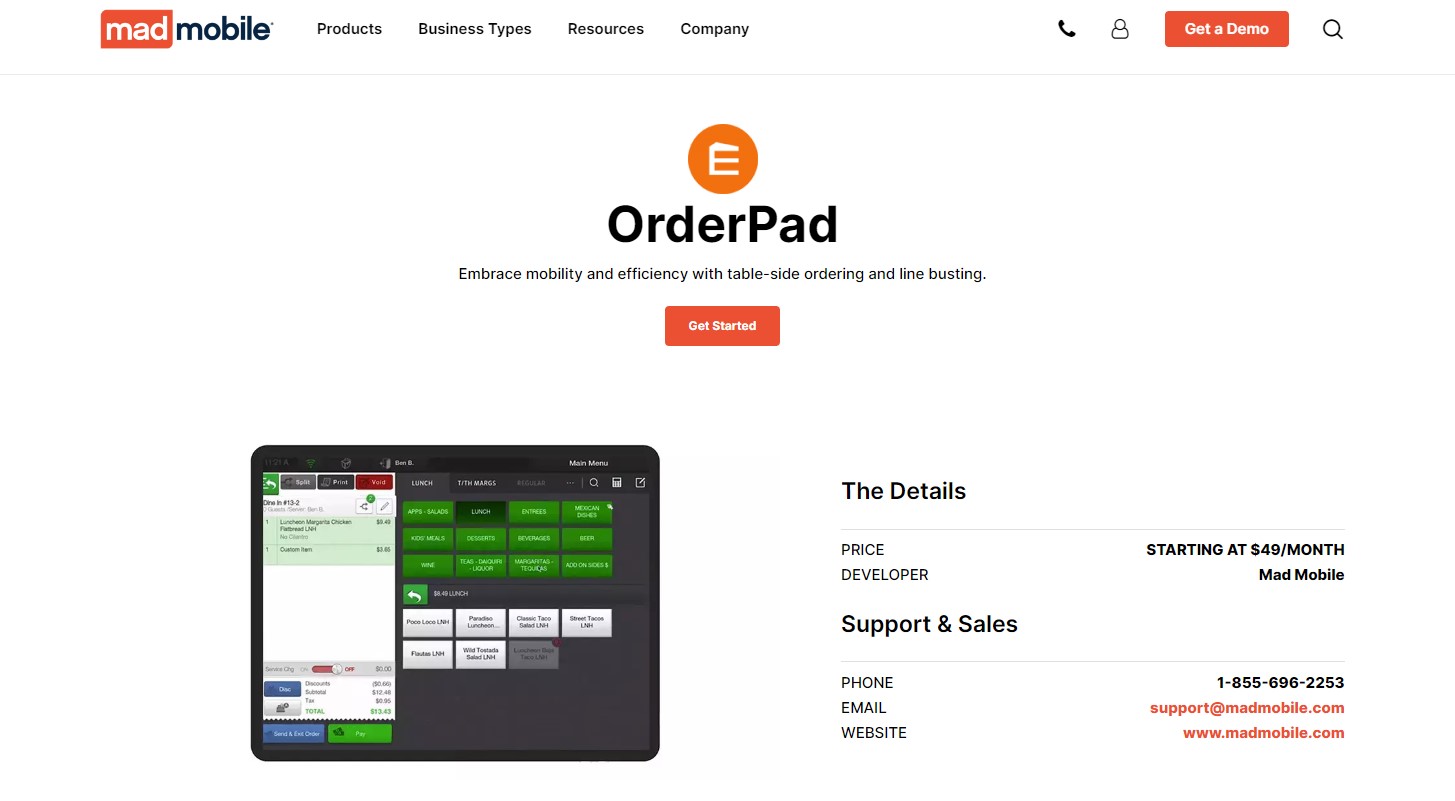 The best iPad POS systems for restaurants are user-friendly, fast, and convenient. Cake OrderPad is no exception. With this iPad POS system, you can serve your customers from anywhere with a WiFi connection. Built for line busting and increasing efficiency, you can greatly reduce wait times and errors by implementing this POS system in your restaurant.
The best part about CAKE OrderPad is the flexibility it offers you. For an additional fee, you can add the Mad Mobile Tableside Ordering App that gives your customers the flexibility to serve themselves. This can help decrease wait times and lessens the load on your store employees. You'll also have the option to add the CAKE Payment Reader that allows you to accept more forms of payment.
Oracle
Website: https://www.oracle.com/industries/food-beverage/restaurant-pos-systems
Price: Starting at $55 per month (details)
Free Option: None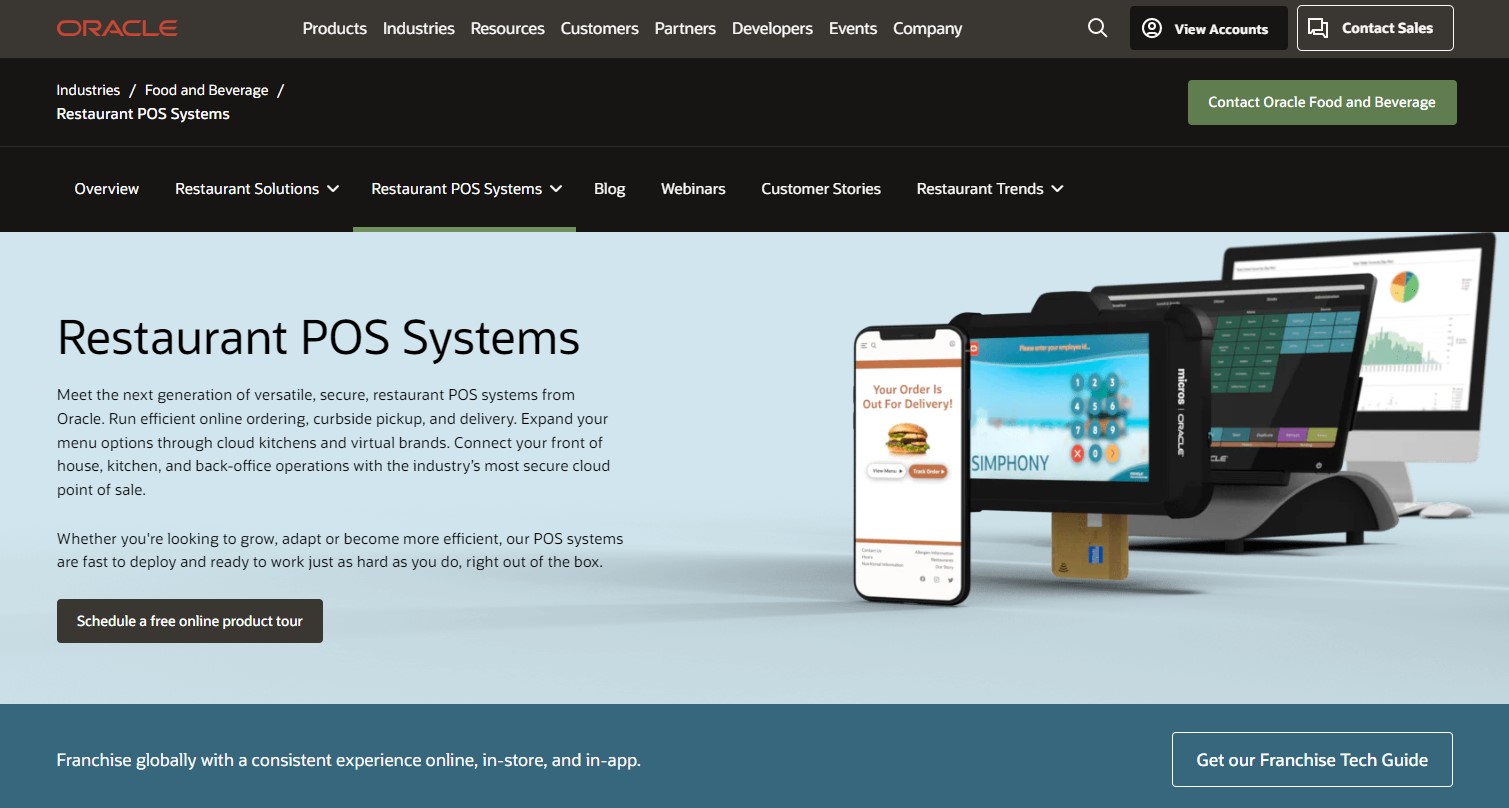 Whether you're looking to expand your business, better serve your current customers, or make your employees' jobs easier, Oracle POS has the tools you need to succeed. Oracle's stellar reputation for providing cutting-edge, top-of-the-line technology to business owners is a major plus you should consider when choosing the right iPad POS system for your restaurant.
The best way to decide whether Oracle is right for you is to compare your needs with the included product offerings. Here's a quick overview of some of Oracle POS's most popular features:
Create cloud kitchens and virtual brands
Online ordering, curbside pickup, and delivery
Manage menus and pricing all in one place
Custom workflows increase speed and reduce errors
Simple, tried-and-true loyalty programs
Integrate Your iPad POS System with SparkPlug
Choosing the right iPad POS system for your restaurant is a big decision. After all, the POS system you choose has the potential to greatly improve not only customer and employee satisfaction, but also your revenue. Luckily, there is no shortage of amazing options out there that can help you achieve your goals at a price you can afford.
Implementing a POS system is just one way to retain employees and keep your customers coming back for more. Try integrating SparkPlug with your POS system today to start rewarding your employees for a job well done.