As we look at retail in the future, it's all about learning to pivot, embrace change, and rethink how you're positioning your brand in retail spaces. Fortunately, we attended ShopTalk 2023 and have some quick takeaways on new insights shaping retail this year. Read on to learn more from featured speakers, the President of Rakuten, Kristen Gail, and Principal Analyst of CB Insights, Laura Kennedy.
ShopTalk 2023: New Insights Shaping Retail
Let's dive into growth, increasing engagement, and leveraging tech for your business. Kristen Gail and Laura Kennedy dive into the insights and forces shaping retail in 2023.
The rise and boom of influencers
Over the last ten years, you saw the rise of Instagram and influencers, COVID hit, and everything decelerated overnight. But then some retail brands started to have exciting and quick growth.
Gail emphasizes, "All of these brands embraced digital in a way they've never embraced it. They had to speed up innovation. For example, Tiffany had incredible post-pandemic growth adding accessibility and digital experiences to allow people to experience their brands in new ways. "
Luxury shopping is having a moment
Gail exclaims, "Luxury is going through an interesting transition right now, which is about challenging existing luxury paradigms. "
There used to be a systemic formula for attaining Luxury. Imagine this - you went into a store, a sales associate helped you, and you interacted with the brand in one way.
Now you're interacting with the brand in different ways than before and it's incredibly diverse. Luxury brands are reaching people through many other channels and leaning into digital more."
And it's not just about buying products digitally.
"It's about creating beautiful digital experiences in the metaverse and different places. But a lot of what happened during the pandemic actually is that we saw a pop in the diffusion of different areas of Luxury. "
Gail points out we're seeing the democratization of luxury across more verticals:
Who's buying Luxury right now?
Percentage of shoppers who bought Luxury in the last 12 months:
18% of baby boomers
46% of Gen X
63% of millennials
60% of Gen Z

Gen Z is interacting with Luxury earlier because they have access via digital experience
Gen Z has the money to spend on Luxury
Gen Z knows it was popular 15 years ago, and now they love it (Nostalgic)
37% of Gen Z has an average of $1,000 to $2,000 of disposable income a month
Luxury finding audiences in new digital spaces
Gail dives into the allure of luxury brands in new spaces.
You see an opportunity for Luxury in the resale space. Resale is a $50 billion industry. Consumers want experiences on digital where they can shop affordably and interact with other consumers and brands.
When Rakuten surveyed a group of 2000 consumers this year:
26% of millennials and 26% of Gen Z are increasing their monthly fashion budget
They buy things they want
Interested in shopping sites that offer discounts and coupons
Opting to look and play and different spaces to find luxury items
Fewer purchases, higher price points
"People are buying fewer items but spending more on them.
That's the paradigm luxury wants to increase: you may buy fewer times a year, but you're buying more unique things. It's less about fast fashion, more about investment."
There's growth across all categories - bags, shoes, apparel, and jewelry. And it's an important mechanism not only to reach new buyers, but also to create a sustainable loop for brands. Sustainability is really important to the Gen Z customer base.
"Instead of shopping 15 to 20 times a year, they shop a couple of times a month, but it's about choosing to spend your money differently and access to buy now and pay later. 64% more consumers on Rakuten traded up to higher end brands from fast fashion than they did in 2021."
Automation, AI, and Customer Engagement
Principal Analyst of CB Insights, Laura Kennedy, explains some vital retail categories embracing the emergence of AI and tech.
Supply chain visibility
Delivery Management Platforms
E-commerce merchandising - product tagging and cataloging
Digital content engagement
"Digital content engagement is a big category covering a lot of stuff from chat commerce to customer data platforms specializing in retail. But the interesting ones that we saw bubbling up among these early and mid-stage companies are thinking more practically and in a practical way about using Blockchain and webstream."
Imagine thinking about NFT's as part of the loyalty program, thinking in a beneficial way as you will use those tokens to engage with your best customers and help personalize that experience.

Emerging Markets

So 12 Out of the 100 companies on this list are in markets that the IMF will classify as emerging market economies. The companies span across many different categories.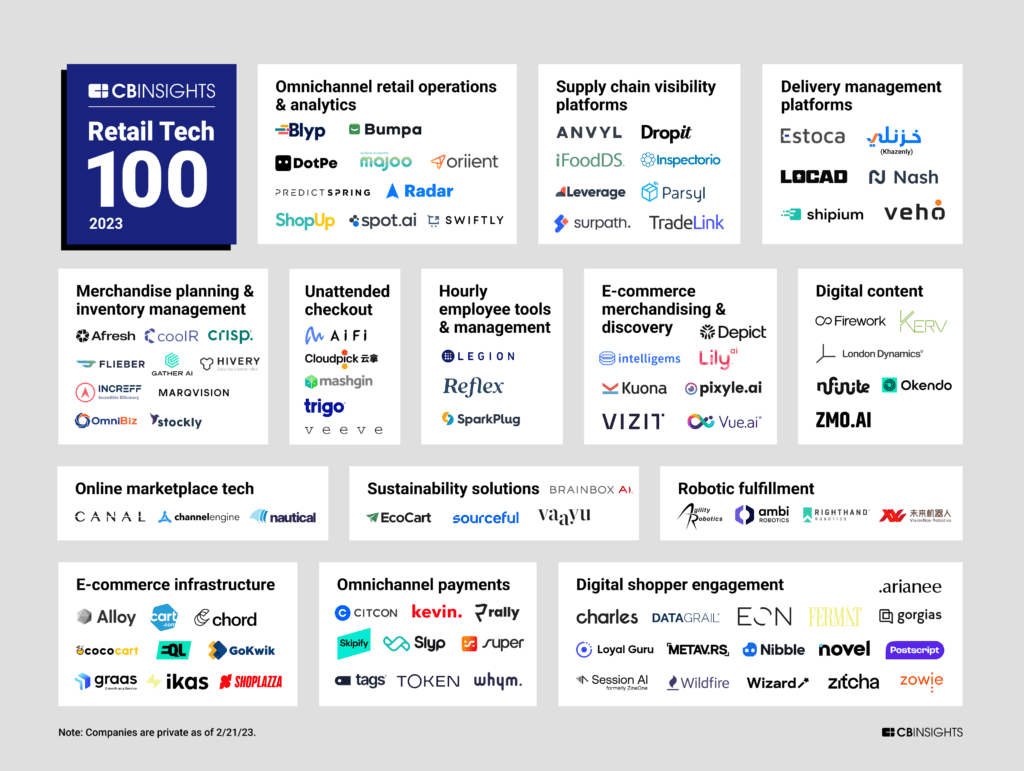 Kennedy dives in, "But the few that really stand out are the omnichannel retail operations and analytics category. And these are the companies that are helping informal retailers digitize their processes. So these retailers are recording things like inventory, sales performance, and other metrics on pen and paper or an analog wave, or they're not recording them. And these platforms are helping digitize those processes. And if those processes are digitized, it not only makes the market easier to enter if you're a retailer, but remarkably it's going to benefit the brands trying to sell into those markets because you're going to get a much better understanding of how everything's performing. "
Leverage these trends for your retail store
Whether you embrace digital experiences, influencers, luxury and Gen Z, or tech to elevate your customer experience, there's plenty to dive into and implement from small, mid-size, or large businesses.

For more on retail, check out The Creator Economy and Retail Sales: Is the Next Surge Coming?