Planning, executing, and running a successful budtender sales meeting is a lot of work. From sales training to industry trends, compliance laws, and team feedback, there's much to accomplish to ensure your staff is ready to provide an incredible customer experience. Read on to learn more from the SparkPlug team on how to supercharge your staff with knowledge and deliver a fantastic customer experience.
What is a Budtender Sales Meeting, and Why is it Important?
A budtender sales meeting is an essential component of cannabis sales training. It allows dispensary staff to perfect their skills and stay up-to-date with industry trends. Dispensary managers or owners typically organize these meetings, covering topics relevant to budtender training. Below are common themes discussed during the sessions.

Consider the following:
Product knowledge
Customer service
Compliance regulations
Sales techniques
Budtenders also have the opportunity to share their experiences and learn from one another in a collaborative environment. The importance of budtender sales meetings is an important balancing act. They help ensure that dispensary staff is knowledgeable, confident, and equipped to provide the best possible experience for customers and patients.
In fact, 34% of budtenders have less than one year's experience.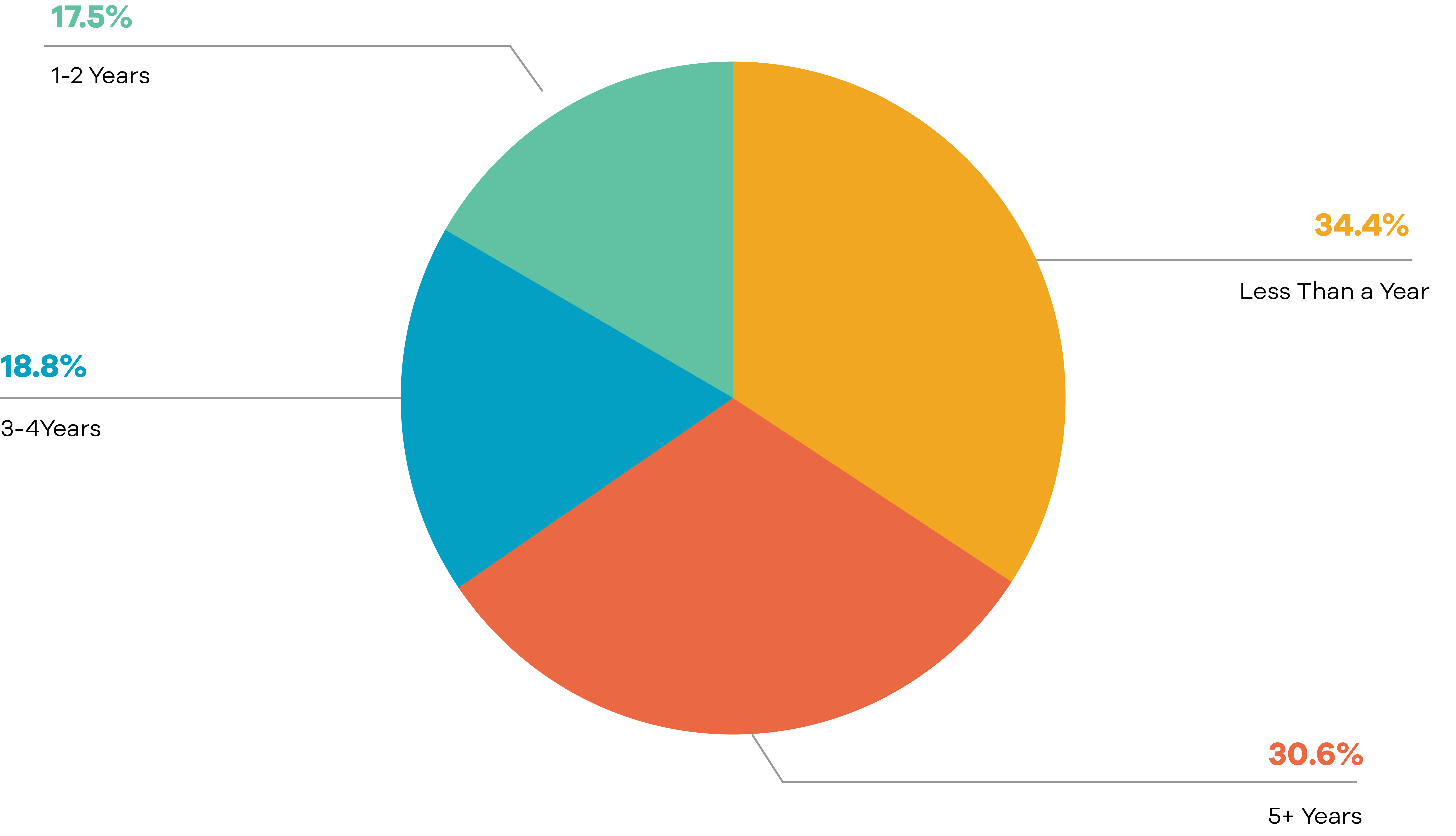 Source: Vangst | FlowHub


By investing in regular training sessions, dispensaries can improve their bottom line while also contributing to the overall growth of the cannabis industry.

How to Prepare for a Successful Budtender Sales Meeting
SparkPlug's Senior Sales Manager, Matt McDowell, dives into ways you can prepare your team for success on the sales floor.
"Communication is a key factor for driving a positive work environment. Check in with your budtenders to get their feedback on their work experience and how their shifts are going, and implement their feedback to help create a sustainable workplace. Also, consider creating a personal career path with their insights so they work towards something they're passionate about in the industry."

Preparation

When it comes to running a successful budtender sales meeting, preparation is critical. Success means setting clear goals for the meeting and preparing an agenda that will help you achieve those goals.

Goal-setting
One of the best practices for budtender training is involving your team in goal-setting. Group goal-setting not only helps ensure that everyone is on the same page about what needs to be accomplished during the meeting but also fosters a sense of ownership and buy-in from your team members.

Agenda
When writing an agenda for your budtender sales meeting, consider including items such as product updates, customer feedback, and any training or coaching opportunities that may be relevant. Consider setting aside time for open discussion and feedback from your team members.

Open door communication
Remember that an effective budtender meeting should be a two-way conversation. Encourage your team to share their experience and ideas throughout the meeting and actively listen and respond to their feedback. Doing so can create a culture of collaboration and continuous improvement within your dispensary team.

Download our Budtender Sales Meeting Template here
Tips & Strategies for Running an Engaging & Informative Budtender Sales Meeting

When it comes to running engaging cannabis sales training, there are a few things that you can keep in mind to ensure that your team is educated on cannabis products and understands customer needs and behavior.

1. Provide a comfortable environment for your team members
Creating a comfortable and welcoming environment for your team members is essential. Also, this can be achieved by setting up the meeting space with comfortable seating, providing refreshments, and having an open-door policy for questions and feedback.

2. Personalize the presentation for your team
It's crucial to tailor your presentation to your team's specific needs. Some budtenders may have more experience, so provide relevant and helpful information for everyone. You can also encourage participation by asking questions and inviting discussion.

3. Encourage hands-on learning
Remember the importance of hands-on learning! Consider incorporating interactive activities such as product demos or role-playing scenarios into your training session. Interactive activities will keep your team engaged and give them practical experience in handling different customer situations.

"Cannabis is an ever-changing industry, and the landscape can pivot quickly. Offer access to new products, industry insights, and education on new topics, so you budtenders can feel empowered to sell and connect with customers."

By following these tips, you can run an informative and engaging budtender sales meeting that leaves your team confident in their knowledge of cannabis products and ready to provide exceptional customer service.


The Benefits of Running Team Building Activities During Budtender Sales Meetings

Running team-building activities during budtender sales meetings can have a positive impact on the overall success of a dispensary. These activities are designed to promote trust and build strong relationships among team members, which can lead to increased collaboration and communication in the workplace.

Trust-building exercises
Trust-building exercises at cannabis meetings provide an opportunity for budtenders to get to know each other on a personal level outside of their regular work environment. When teams feel comfortable with each other, they are more likely to share ideas and feedback openly, leading to improved problem-solving and decision-making.

"Trust-building and collaboration are key factors to increase employee engagement, which affects the overall customer experience. Take care of your team with trust and respect. Also, go above and beyond to help support their employee experience. For example, swag, samples, education, and incentives help budtenders feel appreciated and empowered. The brands that show love to the budtenders are those that sell. When shops have the right incentives and systems to help their team, retention will be at an all-time low, and you'll have a motivated and valued staff."

Collaboration
Team bonding activities during sales meetings also help break down any barriers or cliques within the team. Employees can learn about each other's strengths and weaknesses by participating in fun and engaging activities, increasing appreciation for everyone's unique contributions.

Resources
Investing time and resources into team-building activities for dispensaries can lead to a more cohesive and motivated workforce, resulting in improved customer service and increased sales.

"Take care of your budtenders, and they'll take care of your business. Upskilling, resources, and team-building activities can help you retain your team. If staff members are well trained, supported, and valued, they'll sell more, earn more, and be motivated in their career path. It's common for budtenders to advance to brand reps in the industry. "

For more on Cannabis dispensaries, check out this article.

3 Ways to Help Your Budtenders Sell More Product
Mcdowell dives into three ways you can help your staff thrive on the sales floor.
1. Incentivize your staff (SparkPlug can help you with that)
2. Provide more education on Cannabis
3. Personal knowledge and stories

Industry trends and insights are essential for success on the sales floor. Allow your team to learn more about the landscape by offering informational training. Also, connect with brands and allow your team to dive in and learn, explore new interests, and build on passions. Budtenders that connect with their own experiences and interests will add an essential and unique element to your customer's experience.

"Communicate with your team and customers. Check-in with your budtenders and find out what customers want. What are your customers saying on the floor? Have budtenders had customers request new brands? What do your customers like, dislike, or what would they like to see more of? Get daily or weekly feedback from your customers. Also, asking your budtenders for feedback on what tech or tools would help them succeed in their role puts them in a great place to be a better resource."

4 Ways to Incentivize Your Staff
Time is money. And your budtenders have lives outside of the sales floor. McDowell interjects five ways to encourage and motivate your staff to increase performance and drive sales.

1. Cash
2. Product sales with a cash bonus
3. Experiences
4. High-quality swag


Would you like to incentivize your staff but need help figuring out where to start? In this Cannabis Incentive Playbook, you will find a step-by-step guide for individual and team-based contests for your business.
Education is Essential for a Budtender's Success
"Your budtenders are the backbone of your business and your experts on the frontline every day. You want them to have the confidence and knowledge they need to help customers. Hundreds of strains, dozens of consumption or extract methods, medical vs. recreational dispensaries, each detail is vital to providing a high-quality experience in your store. Not all products are the same, so the more your budtenders are given knowledge, education, and resources on products and the industry, the more your business will thrive. Your customers are expecting it from the start. "

Support Your Budtenders and Watch Your Sales Soar

Investing in the training and support of your budtenders is crucial to the success of your dispensary. A knowledgeable and well-trained staff can provide valuable insights and recommendations to customers, increasing sales and customer loyalty. By prioritizing the development of your team, you are investing not only in the growth of your business but also in the professional growth of each team member.


For more on Cannabis, check out How to Establish Your Dispensary in a New Cannabis Market